Let's face it, Shopify is one of the best e-commerce platforms for creating an online store and selling products online. However, there's no denying that there are still drawbacks to Shopify like expensive transaction fees, lack of SEO tools, and inability to use other markup languages.

Luckily, there are Shopify alternatives that are quite cheaper compared to Shopify.
Top 8 Best Shopify Alternatives in 2020
Today, we've listed our best top 8 Shopify alternatives that are less expensive and more powerful than Shopify for your eCommerce needs.
Introducing in the #1 spot, BigCommerce. BigCommerce is one of the leading e-commerce platforms for enterprise brands. It provides a highly extensible SaaS solution and robust security to help your business so you can focus more on generating sales and less on monitoring and maintaining your business.
We genuinely believe that BigCommerce is one of the big competitors of Shopify. It is fast, secure, and has better SEO service compared to Shopify. But when it comes to BigCommerce vs Shopify, which is completely better?
We've done so many research, and we can tell you right now that Shopify is still better than BigCommerce, but don't go yet! That don't mean that Shopify is the perfect platform for everyone. There are BigCommerce features that Shopify currently don't have and that is something that you could consider.
When you start using BigCommerce, you can expect its ease of use to be as good as Shopify. The only difference is BigCommerce has the most built-in features of any e-commerce platform.

Another difference between Shopify and BigCommerce is their markup languages, by default Shopify has their own language which is Liquid. But with BigCommerce, you can customize your store using HTML and CSS. This is an advantage if you have technical skills.
As we have said earlier, BigCommerce offers features such as SSL certificate to protect your store and validates it as a safe website for processing payments.
If you are looking for a cheaper e-commerce platform, we highly recommend you to choose BigCommerce. BigCommerce offers better value for money compared to Shopify. If you look at their pricing tables, you will see that both platforms start at $29 per month. However, BigCommerce offers more features compared to Shopify and that more will save you money.
BigCommerce also offers:
If you're looking for an e-commerce platform that offers a mad SEO performance then BigCommerce can be your number one option.

Start your free trial now!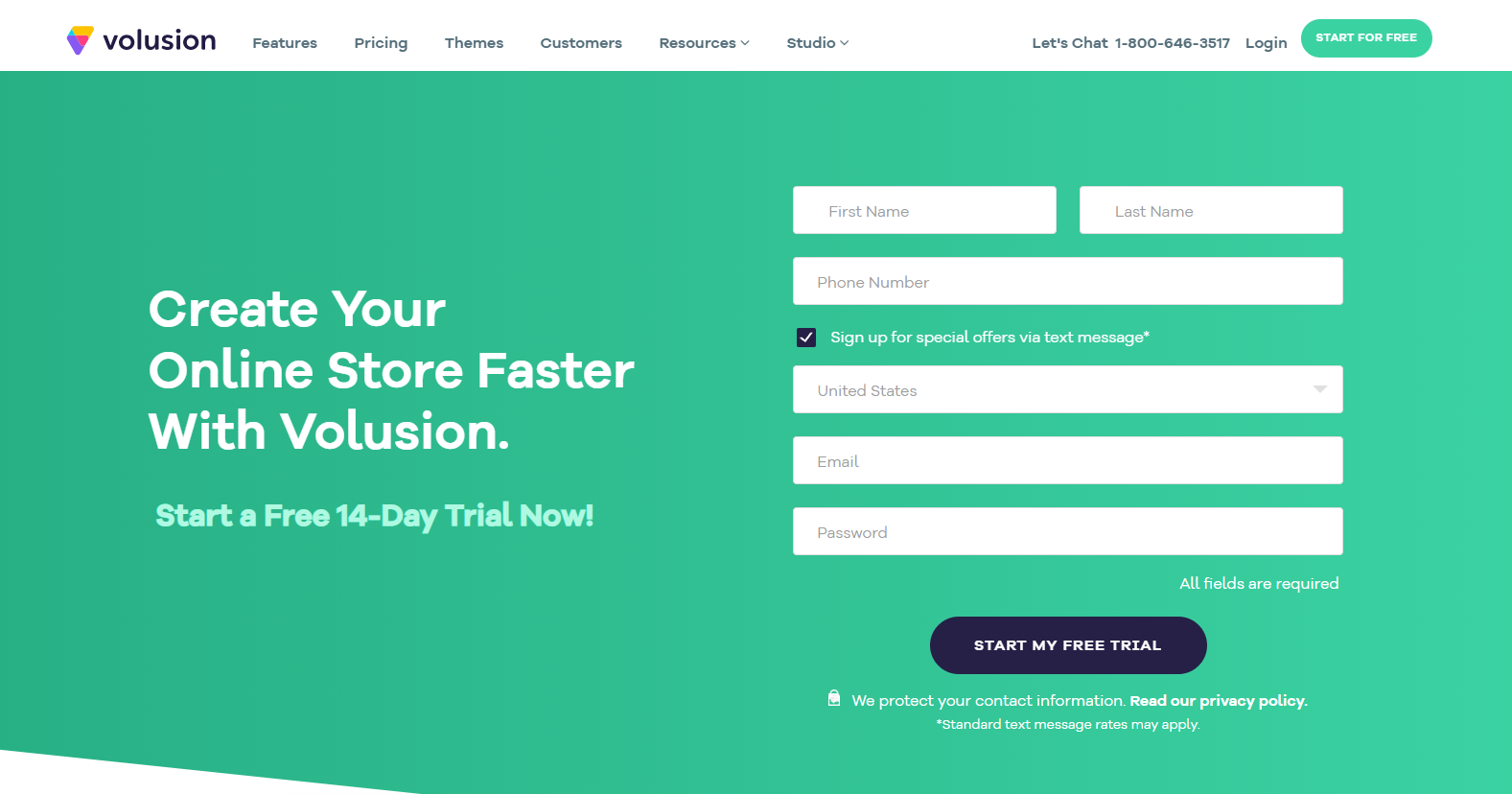 Volusion is a cloud-based e-commerce platform that is popular among small-sized companies and entrepreneurs with entry-level tech skills. If you're new to e-commerce and you don't have enough technical skills then Volusion is the perfect e-commerce platform for you.
We have done our own research for Volusion and we can 100% say that Unfortunately, Shopify is still better than Volusion. Sure, unlike Shopify, Volusion offers "no hidden transactions fees" which means all of your earnings are 100% yours.

However, in our OWN experience, Volusion offers bad business practices. They will raise up your fees without letting you know and customer services are completely bad.

Our experience could be different from what you can experience so we are not discouraging you from trying Volusion. If you are still interested in using Volusion, try their 14-day free trial.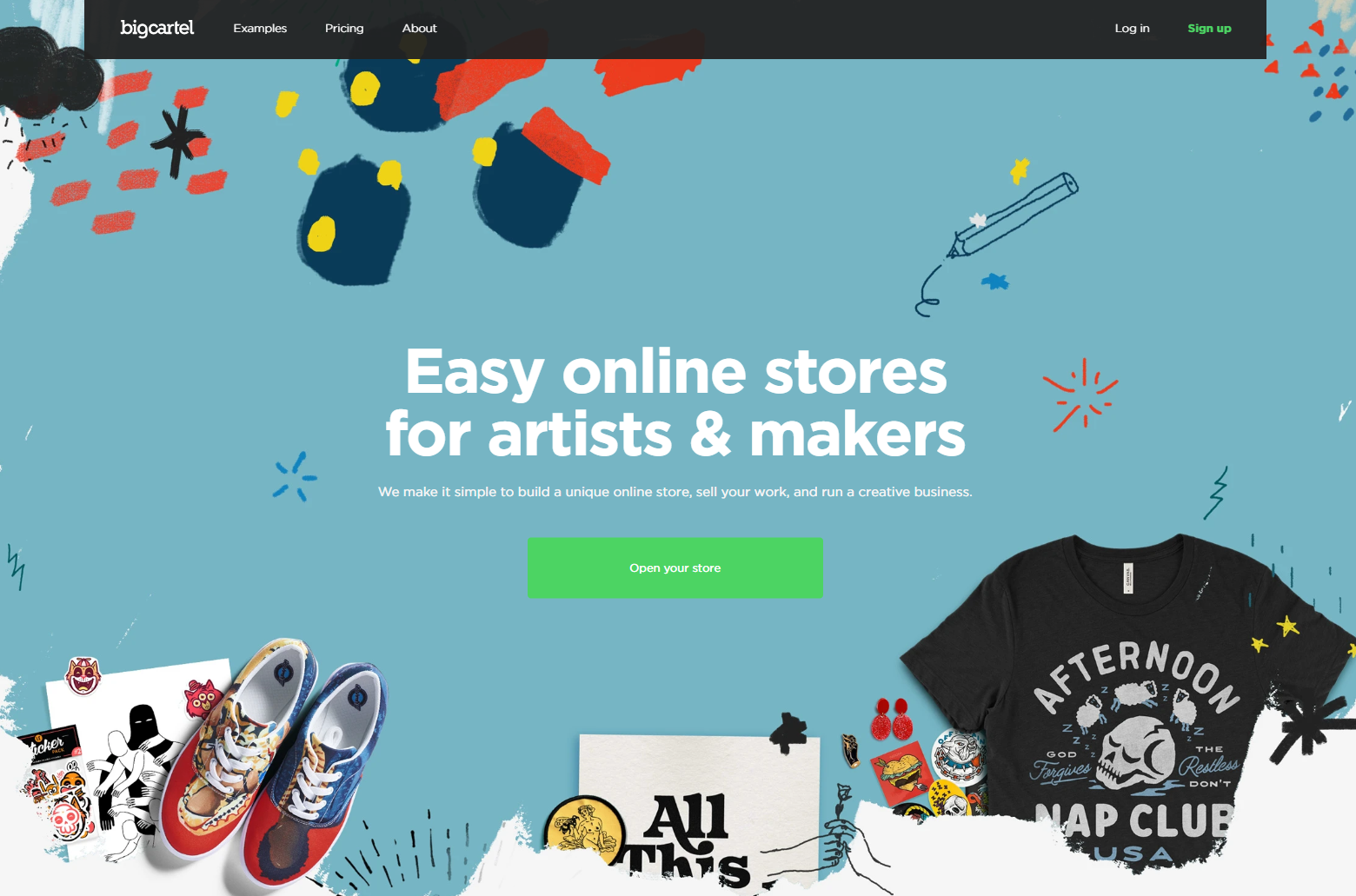 Next up is Big Cartel. Most of the entrepreneur gets excited whenever they hear Big Cartel. Why? One of the reasons is because it's free (If you have less than 5 products) and it cheaper compared to Shopify.
Bigcartel is mostly made for artists so if you like making designs, pottery, paintings, and so on then Big Cartel might be a good option for you. Bigcartel is also very easy to use. Thanks to its simple interface, you can create store in less than 3 minutes.
Unlike its competitors, Big Cartel comes with features that can help your marketing efforts. Big Cartel makes it very easy to connect your store with Facebook. With Big Cartel's Facebook app, you can easily sell your products directly from your Facebook page. This is an advantage especially if you have a good amount of followers on Facebook.

If you ask us which one is better. Shopify vs Big Cartel. We would still recommend Shopify. However, if you're only planning on making a small online business then Big Cartel can be a good option for you.

In a comparison between their prices, Big Cartel is much cheaper, only if you sell less than 25 products per month. Big Cartel's pricing is divided into three.
Currently, Big Cartel offers the following features:
Big Cartel might not offer all the features of its competitors, but honestly, we genuinely feel like they're only targeting clients who are looking for arts and crafts niche. If you are an artist planning on selling just a few products and do not have enough technical skills then Big Cartel might be the right e-commerce platform for you.

Try Big Cartel now for free!
WooCommerce is the next most talked about e-commerce platform and one of the reasons why is that it is free. Technically it is free but there are things that you're gonna need to pay for but that's why merchants liked WooCommerce.
Another thing that you may want to consider is that WooCommerce offers more plugins compared to Shopify. With WooCommerce, you won't need to hire developers just to make you plugins. If you like SEO tools, you can just look it up and install it to your store. If you like to add more features in your storefront, there are a ton of storefront plugins that you can install.
However, if you are a serious entrepreneur who likes to grow then we suggest you stay with Shopify. Unlike Shopify, WooCommerce is NOT reliable and not only that, you still have to pay for your hosting. Sure, you can find cheap hostings everywhere but if you use Shopify vs WooCommerce, you won't have to set up SSL, Google Analytics, Inventory Tracker, etc.
The next consequence with WooCommerce is it's not as easy to use as other platforms and things can or will absolutely go wrong. This is because WooCommerce is reliant to your hosting. If your hosting is not secure enough, your business might get hacked and WooCommerce will not send support for that. If you want to use WooCommerce, you will need a bit of technical understanding. Like what we said previously, you will personally set up everything from scratch.

Read: Why You Should Use WordPress To Build E-Commerce
Next up is Magento. Just like WooCommerce, Magento is an open-sourced platform which means it is free to use and deeply customizable. When we said it is like WooCommerce, we meant that you also need to get yourself a host or a website where you can install Magento.
Now, what makes Magento vs WooCommerce different? To begin with, Magento is a content management system (CMS) just like WordPress but it is built specifically for e-commerce. On the other hand, WooCommerce is a framework that is built as a cherry on top of WordPress.
In conclusion, WooCommerce requires WordPress to be installed before you can use WooCommerce while Magento can stand on its own.
If you have technical skills, Magento might be a good option for you. Currently, Magento offers the following features:
In our experience with Magento, what we liked about their platform is how you have so much control to your store both front-end and back-end. Their support is always great, they provide 24×7 support to help you diagnose and solve occurring issues within your site. However, using Magento can be a little bit complicated and confusing at the beginning but if you put an effort and learn everything about Magento, everything will pay off eventually.

If you're an entrepreneur who is looking for an easy to use interface and you don't have much time to learn technical skills then we recommend you to stay with Shopify or WooCommerce.

Introducing PrestaShop, another freemium e-commerce platform just like WooCommerce and Magento.
PrestaShop, according to them, is an efficient and innovative e-commerce solution that offers all the features you need to create an online store and grow your business.
PrestaShop is also customizable just like other platforms. It can also help you manage your products, orders, and statistics. You may also represent your store in different languages, thanks to its global e-commerce feature.
If you're a big fan of SEO and marketing then PrestaShop might be a good option for you as it can help you:
Now, let's talk about the difference between Shopify vs PrestaShop. Like what we mentioned, PrestaShop is free, technically, but you still have to pay for your host and security features like SSL.

Now the question is, is it really a good alternative for Shopify? It depends. PrestaShop and other open-source solutions are built for developers. So if you are not technically equipped especially HTML, PHP, and CSS, then you may need to take some time to learn or you may need to hire a developer.

Another drawback with PrestaShop is how expensive their customer support is. Imagine, for only 3 hours of support time you'll end up paying $250 per month. Now, you might say that you will barely get issues but trust us, every platform will give you an issue and if you don't know how to fix them yourself then your only option is to call the customer support team.

Again, we're not discouraging you to use PrestaShop, if you are still interested you may download PrestaShop.
If you're looking for an e-commerce platform that is easy to use then Weebly is a great alternative for Shopify. Though Weebly is still far from what Shopify can provide, Weebly's pricing is a bit cheaper than Shopify, so if you're totally short on money then Weebly might be your good option.

To be honest, Weebly is nothing compared to Shopify but it has the potential to become an e-commerce platform.

First of all, Shopify is an actual e-commerce platform, whereas Weebly started as a website builder.

Shopify is fully loaded with awesome capabilities that can support anyone to get started on their business without issues.
Weebly, however, offers a lot less in terms of e-commerce. They offer less payment and shipping options and very basic analytics.

In terms of security, Weebly is great! They give you SSL out of the box without extra fees.

Both Weebly and Shopify offers a free trial. 14-day trial for Shopify and 30-day money-back guarantee for Weebly.

Try Weebly for free.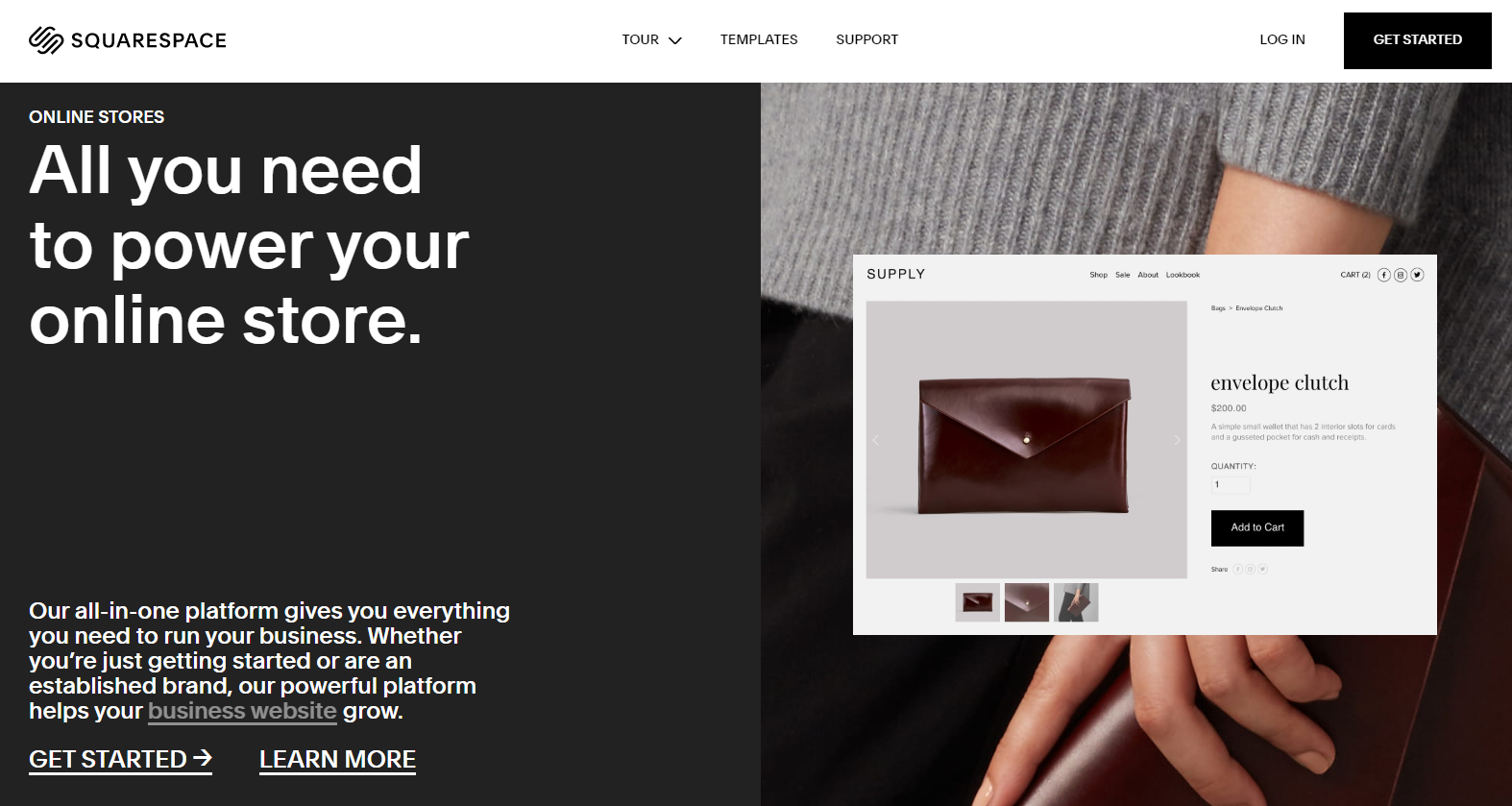 Squarespace is the all-in-one solution for anyone looking to create a beautiful website. Yes. That's true. If your goal is to make your store beautiful instead of getting more sales then Squarespace is your best option.
Seriously though, Squarespace makes sleek websites but is it enough to choose them to run an online store? Just like Weebly, Squarespace is a website builder dedicated to people who like to own beautiful websites.
If you're planning on building a blog and you want to add a store as a bonus then Squarespace is your great option. Selling products with Squarespace is often fast and you can sell both physical and digital products.
When it comes to SEO, we experience it to be not so great compared to other platforms. So if you like SEO then we regret to say this, Squarespace is not great for SEO.
Ease of use? We can say that Weebly is much easier to use compared to Squarespace. Their user interface is a bit complicated for beginners.
Again, we don't discourage you to try Squarespace.
Conclusion
After reading and browsing through the list, hopefully, you've found the Shopify alternative that you're looking for. Personally, I would pick between BigCommerce or WooCommerce especially if you don't really like to use Shopify. These two are honestly the best alternative for Shopify in 2020.