Do you remember when Google Keyword Planner was still a thing? Because I do. Back in the good old days, I use Google Keyword Planner to understand Google search terms on its entirety like:
But after they updated the system, Google keyword planner only displays the range of the average monthly searches instead of giving us the exact number. Sometimes, you could still see the exact number of average monthly searches but only if you spend enough money on your campaigns through Google AdWords. Now here's the question…
What is the Best Keyword Research Tool Online?
Well, I strongly believe that Google Keyword Planner is still the best tool to find good keywords since it's from Google itself. Additionally, It still got useful features like grouping the keywords for everyone's convenience. Not just that, it's still totally 100% FREE.
But if you really think that Google Keyword Planner is your only hope to find the best keywords, then you're obviously missing out a lot.
10 Best Keyword Research Tools for SEO
There are too many keyword research tools that have the same features as Google Keyword Planner. Tools like Ahrefs Keywords Explorer which provides a lot of data, features, and filters. However, you have to pay for these kinds of tools.
But we're not going to focus on tools that require you to do monthly payments. In this article, we'll be giving you the best FREE keyword research tools that you can use for your Search Engine Optimization.
Do you want to earn more traffic to your website? Do you want to know more and understand how your domains are doing? Then Ubersuggest is here to help you succeed in the game of SEO.
What is Ubersuggest?
Ubersuggest is one of the best keyword research tools that helps you generate keyword ideas for your content marketing strategy and production. It is free to use and provides a lot of features like:
Domain Overview where you can get detailed insight into the strategies that are working for others in your niche so you can adopt them and improve them for your own benefit.
Top SEO Pages report helps you discover which of your competitor's pages are ranking for popular organic keyword phrases and which ones are loved by sites like Google. Because of this feature, you will no longer have a hard time finding the best keywords from your competitors so you can use them as well for your blogs to be liked by other platforms.
Keyword Suggestions will give you hundreds of head terms and long-tail phrases based on what is currently working for your competitors. It is also based on what people are typing into Google search.
Content Ideas will help you find the contents that are getting the most social shares and backlinks in your niche. This will help you get the topics that people are actually interested in reading.
Keyword Tool is a free online keyword research tool that uses Google's Autocomplete to generate thousands of relevant long-tail keywords for any niche possible.
If you don't know what Google Autocomplete is, it's a feature used in Google Search to speed up the searches performed by online users on Google. The results are based on many different factors like how often the users were searching for that particular search term in the past.
How Does Keyword Tool work?
What Keyword Tool does is it extracts Google keyword suggestions and presents it to you in an easy-to-understand interface. Keyword Tool will prepend and append the search term that you specify with different characters, then it will be placed into a Google search box and pulls out the keyword suggestions. In just a matter of seconds.

Now here is the best part, there are features provided by Keyword Tool that are not provided by Google Keyword Planner. Here's the list for that:
Easy to find keywords that are hidden in Google Keyword Planner
SEO and Content Creation
SEO Tool for any language
Advertisement Tool
Now despite its generic name, Keyword Tool delivers great results for your keyword researches. If you want to get more information like search volume of a keyword, CPC, and competition level. You may upgrade your account to see these other features.
I'll put this one on the list because Bing Ads Intelligence is also one of the most powerful keyword planning tools that allow you to build and expand your keyword lists using the familiar Microsoft Office Excel interface.

It allows you to easily find the keywords you need and gauge their performance on the Bing Network, and then apply those insights to improve your keyword selection and campaign performance.

With Bing Ads Intelligence. You'll be able to:
Work with large keyword lists that contain up to 200,000 words.
Perform integrated research on keyword and bid estimates.
Optimize your keyword campaigns
Tailor your bidding strategy based on pricing data for keyword-specific metrics such as clicks, impressions, rankings, click-through rate and cost per click.
Leverage keyword research templates
Of course, we won't be forgetting the goodness of Google Keyword Planner. Besides, it's still one of the best keyword research tools that can help you with your SEO and keyword research.

If you haven't tried using this tool then you must at least try because unlike any other research tools, Google Keyword Planner still provides the most accurate keywords that you can use for your own strategies.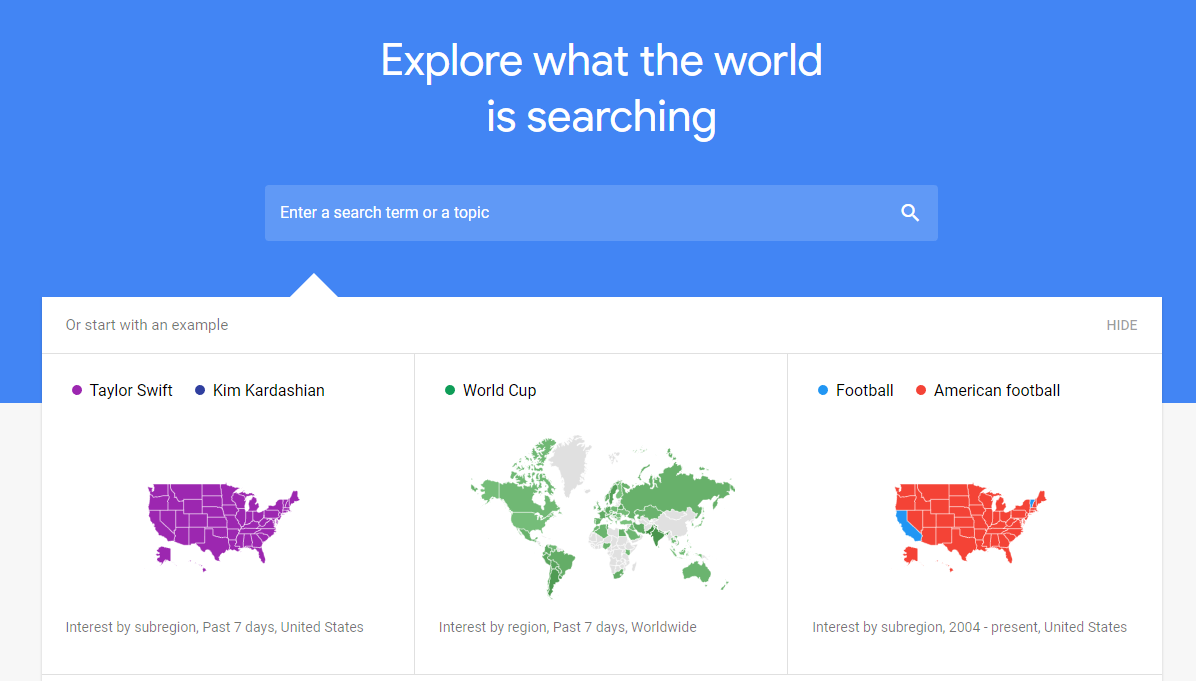 Google Trends is a tool that you can use if you are in the news niche or any other general interest site.
This can help you not only find the keywords but also the topics that you can talk about. Topics that happened just recently and if you are fast enough to write blogs about what's trending. Then you're surely able to benefit with this tool.

With Buzz Sumo, you'll be able to see not just the types of keywords but also the types of content that are most popular.
This will also help you see what's being shared online so you can get a handle on what's popular on social media like Facebook and Twitter.
With this tool, you'll be able to:
Define the time range in which you want to search
Filter by country in terms of Top Level Domain
Extract keywords depending on articles language
Narrow the results depending on which type of content it is
Filter by number of words
Buzz Sumo has a very simple interface yet provides a very powerful tool. So if you haven't tried using this tool. We recommend you to try it at least once and let us know your feedback.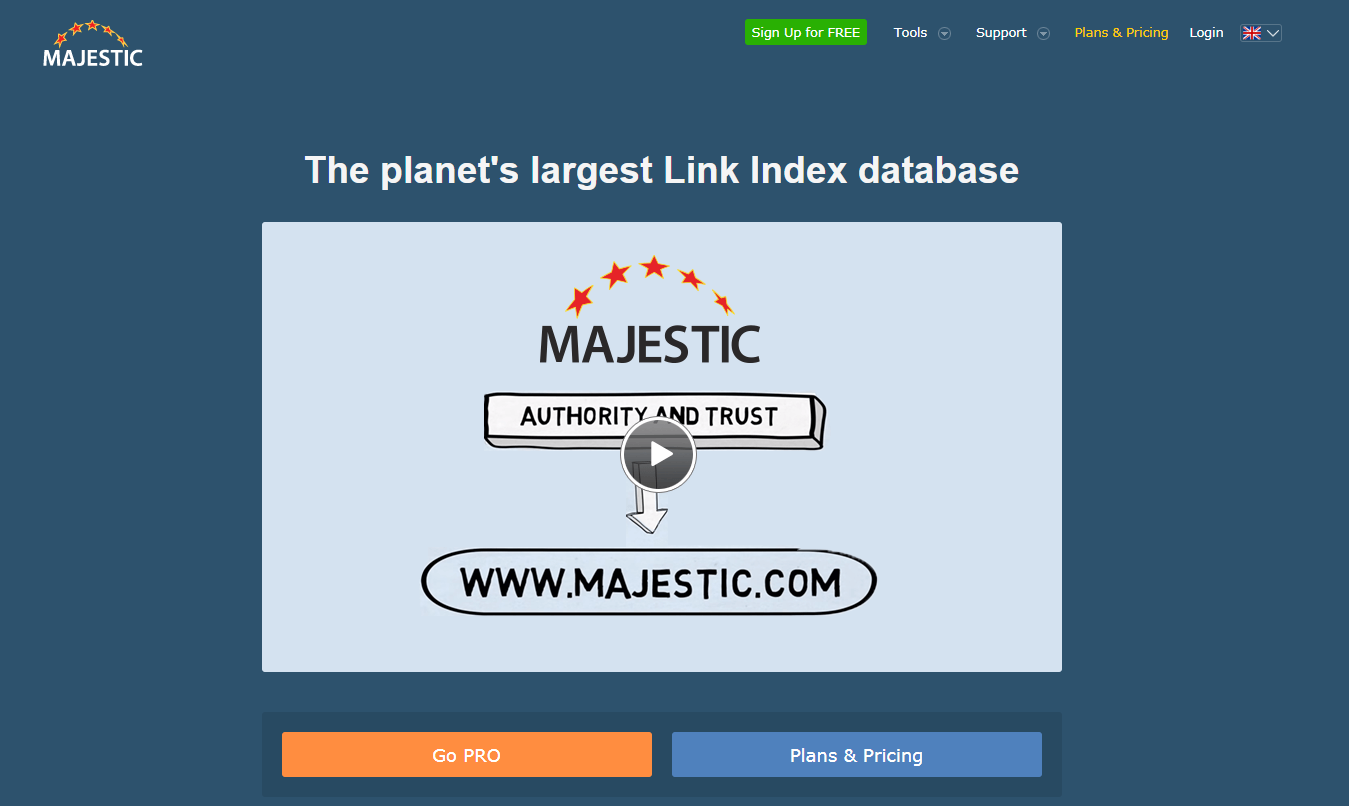 Another wonderful Search Engine tool is Majestic SEO. It's a tool not just for entrepreneurs but also for SEO Professionals.

This tool is so much different compared to other keyword research tool. In this tool you'll be able to:
Generate URLs with keywords
See the search score that is broken down by total hits.
Determine the number of backlinks for each URL
Explore a URL/Domain in great detail
Link Intelligence API

Do you want to do better research in less time? Do you want to identify which keywords your site could rank for right now and find high-impact suggests? Then Moz Keyword Explorer is the one that you're looking for.
Moz Keyword Explorer performs in-depth keyword and SERP analysis to provide you detailed results about the keywords. Not just that, this keyword research tools also provide the following features:
Analyze keywords by search volume to accurately predict how much search volume a keyword will receive.
Generate and save keyword lists to be able to prioritize the keywords you need based on what topic you're currently focused on.
Find keywords in question format, this will help you target long-tail keywords with high-relevancy in the form of questions.
Sort by predictive keyword metrics to help you to rank and drive website traffic.
Review SERP detail by keyword to understand why pages rank.
Provide competitive keyword analysis
Easily export your data
Most keyword research tools are found online with their own system where you needed to provide either URLs or keywords. But this time, you won't need to do anything but install. Yes! That's all you need to do.

Let me introduce to you, Keyword Everywhere. It's a plugin for both Google Chrome and Mozilla Firefox where it generates detailed keywords or statistics like search volume, CPC, and competition level based on the search term that you provided into Google search.

It's really easy to use, very useful and 100% FREE
Do you need more than a keyword research tool? How about a tool for market researching? A tool where you can take competitors' keywords, and provides an in-depth PPC and SEO insights. Well, here's Wordtracker.
Wordtracker is one of the best alternatives to the keyword planner. It provides not just hundreds but thousands of profitable long-tail keywords in every search you do.
Not just that, Wordtracker also provides the following features:
Actual keywords not grouped
Actual results not banded
Search trends
SEO competition metrics
SERP comparison
Live chat services
Related/lateral search
Amazon keywords
YouTube keywords
Negative keyword search
If you want more web traffic or if you want to understand more what your market is currently looking for, then you should try Wordtracker. It's very useful, powerful, and FREE
Conclusion
Every keyword research tool above will provide you most of the features that you need to gain web traffic. I would recommend you to check each of the tools above and see what's best for your website.

If there is one tool that stopped working or a link. Please help us by letting us know in the comments below.