Videoder Premium APK for android is one of the best downloaders for downloading youtube videos in 2020. The free version of Videoder APP will only let you download videos but with Videoder premium, you will be able to download videos with no ads.

If you have been using YouTube downloaders for a long time then you may probably know already that Videoder is not available in the PlayStore. This is due to its violation of the PlayStore policies. So if you want to use this app, it is highly recommended to download directly from their official site.
What is Videoder?
Videoder is a free video downloader and converter for both android devices and PC.

Videoder was officially founded by Rahul Verma back in 2013 with the support of his team Varun, a full stack developer who is involved in both backend and frontend development of Videoder. Surbhi Singla is also part of Rahul's team. She manages all of the operations involved in Videoder including brand promotion and marketing.

Up until now, Videoder is believed to be one of the most known video downloaders online.
Download Videos Everywhere
Videoder Premium APK supports over 50+ websites that stream videos and music including most of the popular sites like:
If one of your favorite streaming websites is not available in the list, you may contact Videoder and they will add them for just you!
New Features
Videoder Premium APK offers the following new features:
YouTube Playlist Downloader
Videoder Premium APK allows you to download videos all at once with its YouTube Playlist Downloader feature
Download YouTube videos
Download youtube videos to your phone or pc with Videoder for free.
Built-in Browser & Ad-Blocker
Download videos on the go with built-in browser and with no interruptions thanks to Ad-block feature.
Insanely Fast Download
Videoder uses multiple network connections to boost your downloading speed.
Download Videoder Premium APK for Android
Videoder Premium APK is currently supporting Android devices, Windows PC and MAC. You may also download videos from YouTube Red using Videoder Premium.
To start downloading videos online, click the download button below.
How To Install Videoder Premium APK?
Step 1
Download Videoder Premium APK. If your browser warns you on downloading APK outside PlayStore, ignore it as you are downloading from the official Videoder site.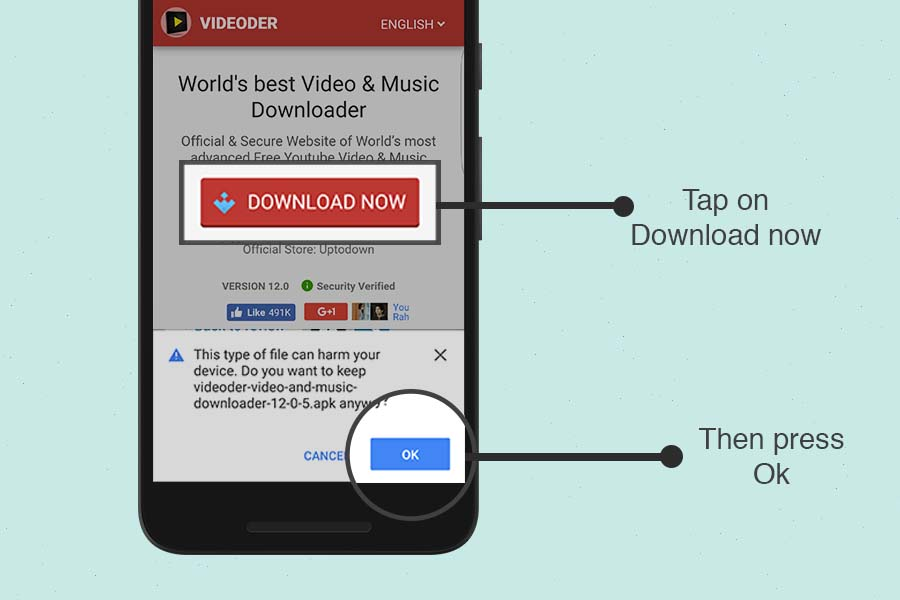 Step 2
Wait for the app to be downloaded in the notifications panel. Once the download is complete, tap on the completed notification to install.
Step 3
Your settings may not allow you to install the APK outside Play Store. If you see the popup as shown below, tap on SETTINGS and follow the next instructions.
Step 4
Go to ' Settings -> Security -> Unknown Sources ' and turn it on. You may turn this off again if you've finished installing videoder.
Step 5
Go back to Downloads and open the downloaded and complete the installation. Do not forget to turn off Unknown Sources once the installation is complete.
Conclusion
There's no doubt that Videoder is one of the most used downloaders and converter online. But if for some reason the app doesn't allow you to download then there are Videoder alternatives that you can use.

If you have encountered any issues. Don't hesitate to let us know in the comments below. We'd love to help out!
Disclosure: This article may contain affiliate links, which means we may receive a commission if you click a link and purchase something that we have recommended.