If you're a fan of downloading video clips especially from YouTube, then you probably know SaveClipBro or YouTubNow. They have been one of the most reliable programs which allow you to download videos and even convert them into a video filetype that you desire.

Unfortunately, SaveClipBro and YouTubNow have been shut down after its legal battle with YouTube according to one of the subreddits on Reddit.

A lot of users have been surprised about what happened and now everyone is looking for alternative downloaders that could do the same thing as SaveClipBro.

In this article, we'll be giving you the best 10 saveclipbro and youtubnow alternatives that you can use to download and convert YouTube videos for free.
ClipGrab – Free YouTube Downloader & Converter
ClipGrab is a free downloader and converter for YouTube, Vimeo, Facebook, and many other online video platforms.

With ClipGrab, you can convert downloaded videos to MPEG4, MP3 or any other formats in just one easy step.

The only downside with this is that you have to download the actual software and install it to your PC to use it.

The good thing with this is that you can use this software in Windows PC, MacOS, and Linux.
Videoder – Free Youtube Video and Music Downloader for Android
Videoder for Android and PC makes it easier than ever to build your own collection of the movies you like, the music you hear and the videos you watch. A tool to back you when streaming on poor internet connections is a big turn off.
Features
KeepVid: YouTube Video Downloader
There are plenty of versions of KeepVid sites to the fact that we don't even know anymore which one is the official. But we've personally used this version of KeepVid and we can say that this could be one of the alternatives for downloading YouTube videos online.

What's good about this is that you don't have to download software, just copy the URL, paste it and download. Easy!
However, if you're looking for the "Official" like what they're claiming then you can try…
KeepVid is an all-in-one online video solution platform which offers you a variety of online tools, including online video converter, online video editor, online video compressor, and more. With more than 15 years' dedication in the video field, KeepVid is now used by over 100 million users.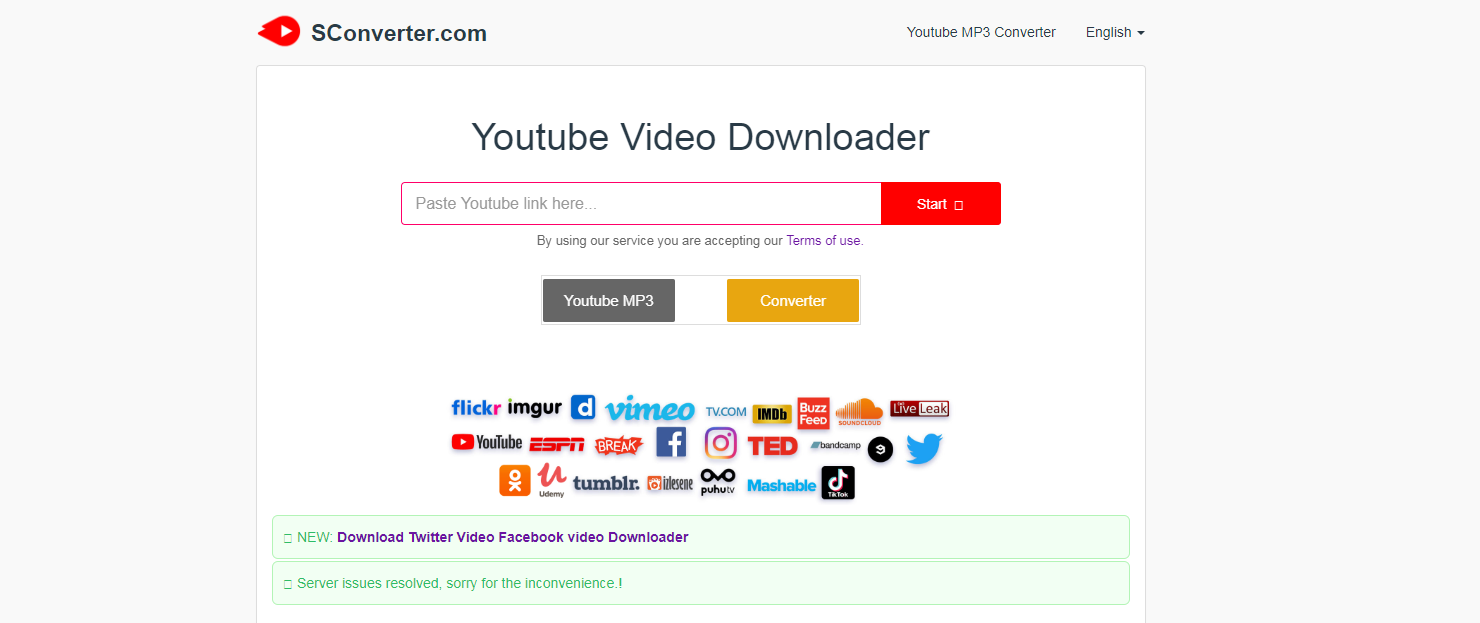 With SConverter.com, you can download videos from YouTube for free with its high-speed download. Not only that, but you can also download videos from Facebook, Twitter, and Instagram.
You can download videos with different formats such as MP4, 3GP, WEBM, MP3, and much more.
SConverter.com serves you unlimited downloads and conversions. Direct video and audio downloads and more!
SConverter.com is very easy to use. Just enter the YouTube video link and click on "Start" button and wait a few seconds then choose the video/audio format that you want to download and then click the Download button.
There could be issues while using this service though, but there's a very easy solution. If the video you're trying to upload plays instead of download. Just right-click the video and hit Save as… and choose where you wanted to save the video.
ddownr – Online Downloader
ddownr is one of the biggest downloaders and converters on the internet. With ddownr, you can download YouTube videos and playlists online for free! No software installment required. Just enter YouTube URL (single video or playlist) and hit download.
ddownr is an Ad-free YouTube downloader which means you don't have to worry about pop-ups or viruses. Not only that, it is a fast downloader that can also convert videos to MP3. Do you have a playlist of your favorite songs? You can download it all at once!
Do you also want to know how many users are using ddownr? You can, just browse their open statistics and you can see how much bandwidth they're using. Very cool service!
Download videos from 100+ video sharing sites using Video Keeper by Ace Thinker. With Video Keeper, you can convert videos to popular video formats so you can play the videos anywhere you want and in any devices available. You can also download YouTube videos that are listed in a playlist in just one click!
The downside with this? Unlike online downloaders, Video Keeper requires you to download and install this software and not only that… You are required to pay for this software for around $40.
We added this software to this list because you can also try this for free. And other users find this fast and reliable to download high-quality videos.
BitDownloader – Download V Live Videos in HD
BitDownload is one of the best tools available that can be an alternative for SaveClipBro. It is free and can convert videos from YouTube to MP4 and other formats. It supports a range of platforms including YouTube, Facebook, Instagram, Coub, V Live, and many more. All you needed to do is to enter the URL of the video and download it at the best speed possible.
With BitDownloader, you can easily download videos from YouTube (non-copyright) and save them to your device so that you can watch them for later. This comes in handy when you are traveling or you're in a place with no internet connection.
BitDownloader is a free downloader and does not require users to download any software and does not require users to register to be able to use this service. It is 100% secure and safe to use.
Another YouTube video downloader that you can use as an alternative for SaveClipBro is AmoyShare. AmoyShare Free YouTube Downloader is one of the best YouTube downloader online that allows you to freely download videos from YouTube. You can also convert the downloaded video into MP3 so you can listen to music without an internet connection.
Using AmoyShare is very easy too! Just like a search engine, search for the video or enter the video URL. Then you can download the video. If you want to preview the video, you can also do that by clicking on the video thumbnail.
AmoyShare YouTube Downloader is a free online YouTube downloader that compatible with almost all browsers. Follow the steps above, and you can download YouTube videos on Android phone through any mobile browser. For iPhone fans, you can only save YouTube videos to iPhone via browsers with built-in download feature, such as Cheetah browser.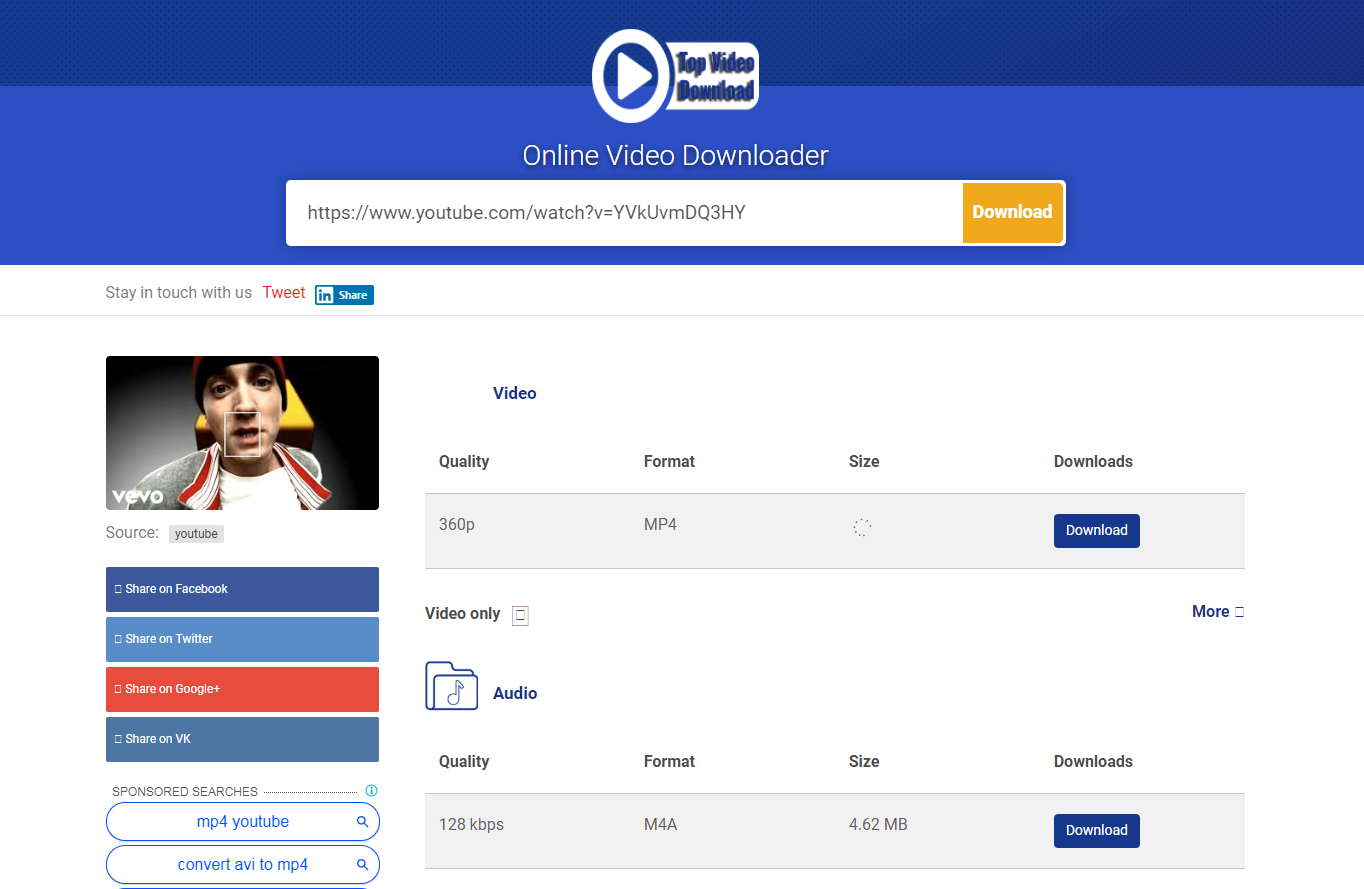 Last in the list is Top Video Downloader or Online Video Downloader.
This downloader is quite popular because it is free, secure, and user-friendly but full of advertisements. With Online Video Downloader, you can download videos from all popular video sharing websites such as YouTube, Facebook, Dailymotion, Vimeo, Instagram, or even Soundcloud. You can also download using any of your devices like PC, Tablet, Mobile phones, and more.
Top Video Downloader is compatible with all major browsers including Google Chrome, Firefox, Safari, Microsoft Edge, Opera, UC Browser and more.
To use Online Video Downloader, all you need is the video URL and paste it in the input box and click Download. Next procedure is just to select which format you want to download the video.
Conclusion
Keep in mind that downloading copyrighted videos/music is illegal. The said downloaders should not be used for illegal actions such as selling copyrighted materials.

If you want to use the listed downloaders above, say for example to download music then you may use the said tools. But please support the artists as well by purchasing their work instead of downloading.
If you have encountered any errors in any of the listed downloaders, please let us know by commenting down below. We'd love to help you.