Most people including myself browse the internet to read articles, ask questions, look for cat photos and laugh at some funny memes. But most of us spent more time watching YouTube videos.
Millions of people watch not just hundreds but thousands of YouTube videos and probably half of that million of people watches a video offline by downloading the videos that they liked using YouTube downloaders.
How do I download a video off the internet?
There are hundreds of YouTube video URL downloader online like Free Video Finder and SaveClipBro. Downloaders that only require URL and all you need to do is just download.
What is the best video downloader?
There are many things to consider to tell if a video downloader is great.

For example:
Does it show too many ads? or just a few?
Can I download more than one video?
Does it provide fast download features?
Is it virus free? Won't I get malware when I use the app?
Can it convert my files into different formats?
and more…
If you are using an android device or an iOS device then these are the best android video downloaders for YouTube and other web streaming websites:
1. YouTube URL Downloader: Videoder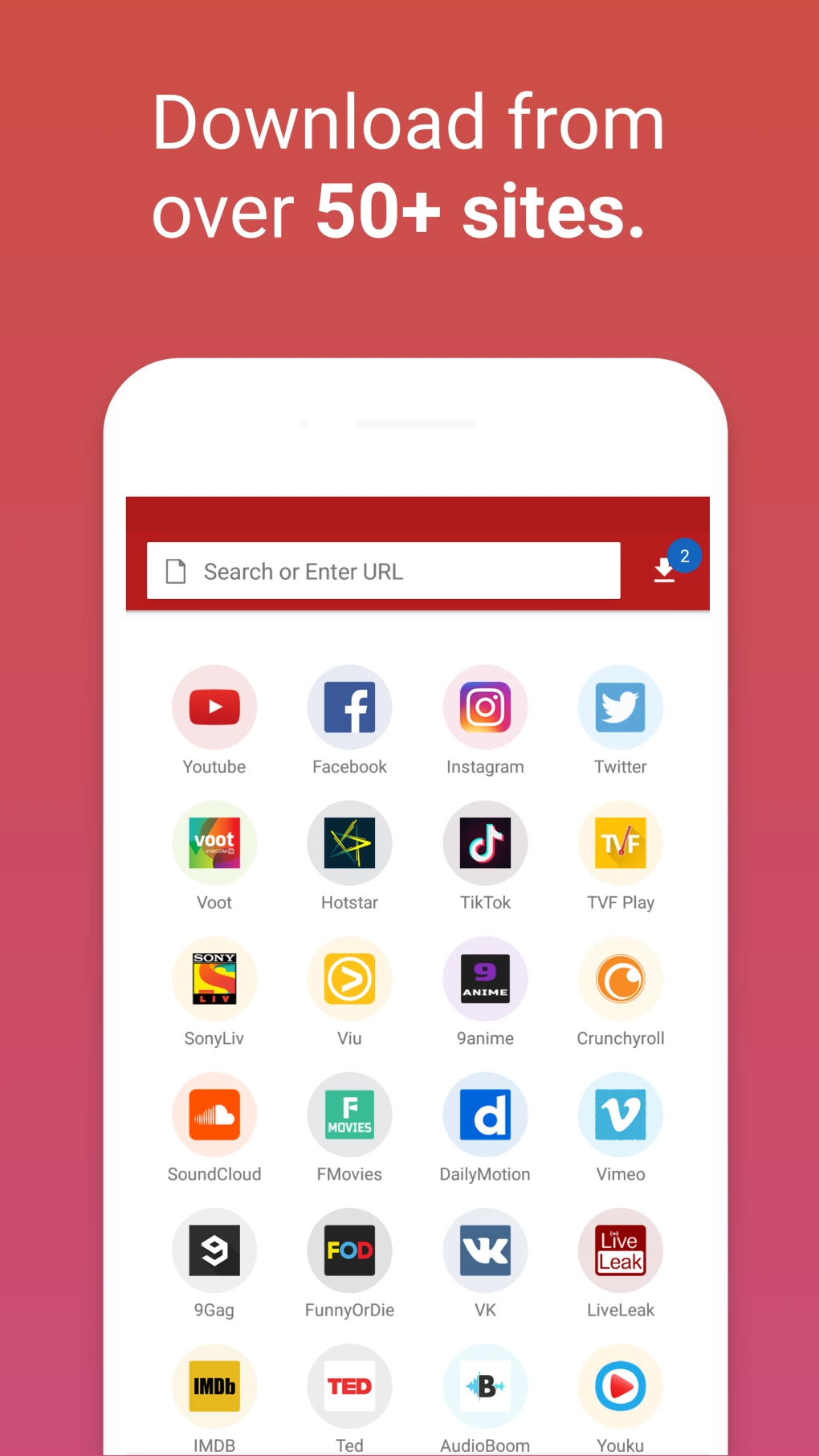 Videoder is one of the best android apps that lets you download not just YouTube videos but also other web streaming websites like Facebook, Instagram, hotstar, voot, and vk. They also add new supported websites every week as per users' request.
If you are looking for an illustrated guide on how to download and install Videoder, you may follow this link (It provides illustrations that will help you on how to properly download & install the APK):
2. YouTube URL Downloader: KeepVid
KeepVid is a popular online video downloader and converter known and used by millions of people. Like other downloaders, it allows users to download any type of videos from popular video streaming websites for totally free, including YouTube, Vimeo, Dailymotion, Facebook, Instagram, Google Video, Metacafe and so on.
If you are looking for a downloader and converter from KeepVid, you may use their software and install it to your computer. Totally virus-free!
KeepVid is no doubt one of the best and popular Android video downloaders. It's an all-in-one video application that supports not only downloading videos but also video conversions, video editing, and video compressing.
3. YouTube URL Downloader: TubeMate 3
Tube Mate 3 is the newest version of Tube mate app. Same as the rest downloaders, Tube Mate allows you to download videos from the world's most popular online streaming media platform like YouTube, Facebook, Instagram, Vimeo, and many more. It has excellent features which lots of users want like clean user interface, fast download, and more.
4. YouTube URL Downloader: OGYouTube
If you are looking for a YouTube video downloader with no ads and has direct download links, an option to play videos in Background, has dark mode option, and an Ad-Blocker, then OGYouTube is what you're looking for.
The interface of OGYouTube is the same as the default YouTube app. It also has the same functionalities but with options to download and play the video behind other apps that you're using.
What's best with this app is that you do not need any root access to use OGYouTube. All you need to do is simply download & install the app and run it.
5. YouTube URL Downloader: InsTube
InsTube provides free download with a clean user interface, it could download not just videos but also music from more than a hundred video streaming websites like YouTube, Facebook, Instagram and more.

If you want to download High Definition videos, Full HD and 4K resolution videos. InsTube supports that as well!
With this app, you can download videos with 10 times faster than any other downloader. It also has a feature where users are protected especially their privacy.
Find & Download Any Videos Online for FREE Without Installing Apps
If you're looking for websites that lets you download any videos from any websites then you have come to the right place. There are hundreds of FREE online downloaders that you can use to download not just YouTube videos but also other videos from known web streaming websites like Instagram, Facebook, Vimeo, etc.
Online Video Converter is a FREE Online Video Converter, Online Video Downloader, and Screen Recorder. No Software Required to do all of those features.

Online Video Converter allows you to convert any YouTube video links to video formats like MP4, MP3, AAC, OGG, WAV, MOV, MPG, FLV, and AVI.

To download videos, all you need to do is enter the link of the video that you want to convert or you may also choose a file from your device or cloud storage then choose which format you want your file to be converted to and that's it! You may download now the converted file.
Free Video Finder is said to be the best video downloader for FULL HD video download. It supports more than 1000 video streaming websites like YouTube, Facebook, Instagram and more.

What's loved about this website is that it gets rid of any pop-up ads. This downloader can also extract the audio of the video by converting the video to audio formats like MP3 and WAV.

If you feel lazy going to YouTube just to copy the URL of the video. You can just simply search the video in Free Video Finder using the keywords.
SaveClipBro.com is your free video downloader and converter online. Just like any other else. You can download and convert any videos online with just the URL. This downloader also supports music services. If you like to download audios from Soundcloud, you may do so by providing a URL.
Other YouTube URL Downloader that you may try:
If any of the video downloaders above don't work. You may try the following alternatives of video downloaders listed below. It has the same function and features as what's above.
Like any other video downloader, SaveTheVideo.com allows the users to download and convert videos from any popular video streaming websites like YouTube, Facebook, Instagram, Dailymotion and many more.
SaveTheVideo.com also allows you to convert videos directly from their website.
It does its job of downloading and converting videos fast and it's recommended by other users who can't use other downloaders.
Like what YouTubNow stated in their description, downloading videos and MP3 from YouTube is promised to be very easy.

Like any other youtube downloader, all you need to do is paste the YouTube link in their search box, select which format you want your file to be converted into, and there you have it. You may now download your YouTube video for offline use.
If you are just looking for a video converter that converts not just YouTube videos but also Dailymotion videos to MP3 then you may use convert2mp3.net. It's fast, reliable, and virus free.
Online Video Converter. A free web app that lets you convert video files, and allows you to change the video format, video resolution or frame size right in the app itself. No software needed to be installed and Virus-free guaranteed
Important Note
It is important to remember that most downloader is not available on Google Play Store due to the reason of copyright.

Keep in mind that downloading any copyrighted video is illegal. That's why if you are using any of the apps above, make sure you're not using them just to sell all the files or videos that you have downloaded.
Conclusion
Any of the video downloaders and converters listed above will work like they're all just the same. The only difference is its performance, user interface, and other miscellaneous features.
If any of the video downloaders above stop working, or if any of the links above won't work, let us know by writing a comment down below.
Is there a way to quickly download YouTube videos?
Shhh, here's my last tip for everyone who is reading this. Consider this as your prize for reading all the way down.
Yes, there is a way to quickly download and convert YouTube videos at the same time and download it with just one click.
There is an add-on or an extension for chrome or firefox that gives you a download button in the actual watch page of YouTube and that is VLC Video Converter.


VLC Video Converter turns your browser into a download machine for online videos. It's fast and reliable that in just one press of a button, your YouTube video will be downloaded.
Features:
All video formats are supported (including .flv video, mp4, avi, asf, mpeg and much more)
The video quality is saved
Super lightweight and for free
Download video function
Save video as a file to your device
Just download videos to your PC and don't waste your time on delays with online watching.
Install VLC Video Converter through Google Chrome's Web Store.