So you're planning on building yourself a domain but don't know if it's available or not. You've come to the right place!
In this article, we'll be guiding you on how to choose your domain name using these FREE tools available online to check domains' availability.
Domain Name Search
Choosing the right domain name is one of the steps in creating your website. Unfortunately, it isn't going to be as easy as it used to be.
At this point, there are millions of domains that are running online and believe me or not, the domain name that you thought of yesterday? It might not be available anymore.
Websites name needs to be short and easy to be remembered, but the most important thing is, your domain name should be related to what your website is going to be.
Or let's just say, your domain name should properly represent your brand. Thus calling it, brand naming.
Best Domain Name Tools
Below are the tools we highly recommend for checking domain name's availability. Feel free to choose any of these:
Instant Domain Search is a FREE tool you may try to check the domain name's availability. With its color coding ability, you will easily find out if the domain name is available or not. The color red means the domain name is taken, color green means the domain is available and blue means the domain is for sale and ready for bidding transactions.
It also has other features like Domain name generator. So if you're looking for a domain name that is available then use Instant Domain Search.
Name.com is a domain name registrar accredited by ICANN which offers great features such as:
Whois Lookup
Bulk Domain Searching
Domain Transfer
Email forwarding
DNS Management
Social Media Forwarding
If you're looking for support on how to create your website, name.com offers supports as well to help you build your dream website. Find your perfect domain name. From premium domains to cheap domains, search for and register your domain with Name.com and save.

Conduct a domain name check with namecheap.com. This will ensure that the domain name will not appear as a username on major social media sites like Facebook, Twitter, and Instagram.
Namecheap will also suggest some alternative TLDs that you may want to try if your domain name is not available.
How to find good domain names?
There are many ways to find a good domain name. Your first option is to come up with a list of candidate domain names and then use at least one of the tools mentioned above to check is the domain name is available. Another option is to use Domain name generators.
A lot of people believe that it is required to use a .com domain extension to be considered as a premium site. This is not the case anymore, there are lots of domain that uses domain extensions like .biz, .net, and etc.

They also believe that using a .com domain extension will help their SEO and Google rankings. Trust me, all extensions are equal, there's no need to choose .com just to rank in Google search results.
What I like you to do is to choose the best domain name that is very easy to remember, catchy, and of course, should represent your brand. I would go with names that have two words and not more than 10 characters.

Keep in mind that your goal is to show up in search results as soon as the users search for the word related to your brand.
Free Domain Name Generators
There are hundreds of domain name generators that are free to use and honestly, whenever my domain name ideas are not available, I used them as well.

Below is my list of domain name generators that I recommend you to use: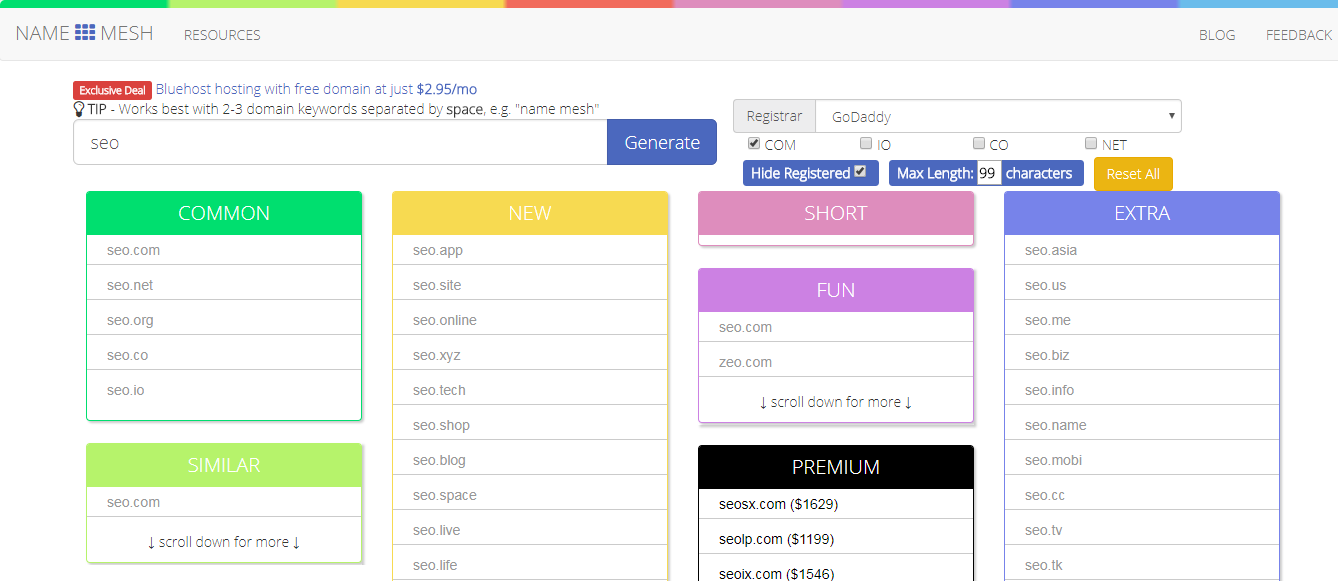 Namemesh.com is one of my favorites, it helps not only check the domain availability but it also provide you lots of options depending on what word you have provided.

Let's say, you typed SEO in the input box. Namemesh.com will generate many domain name options for you to choose from including domains that are for sale.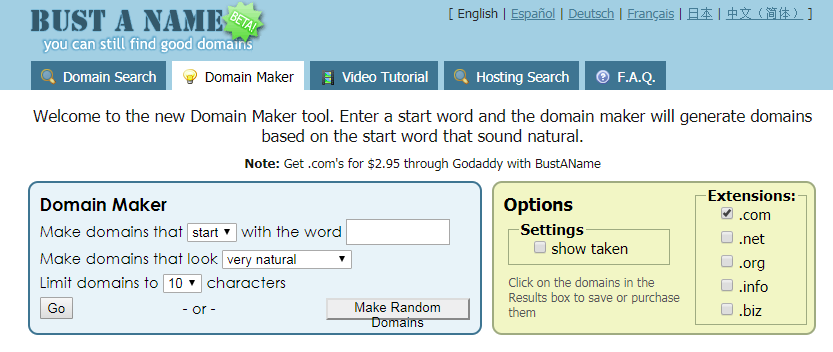 Bust a Name is one of the domain name generators that are very easy to use. It has numerous filtering tools to help you get the domain name that you're looking for.
You can start by typing the word with the option of "starts with" or "ends with".
and then choose in the next option if you want the domain to look natural, not natural, or somewhat natural. Lastly, you may adjust the number of characters you want for the domain name.
There are also options for the domain extensions, so if you want to show not only the .com extension but also the .net extensions then you can check the options available.
The results will show up in the red box underneath the Domain Maker..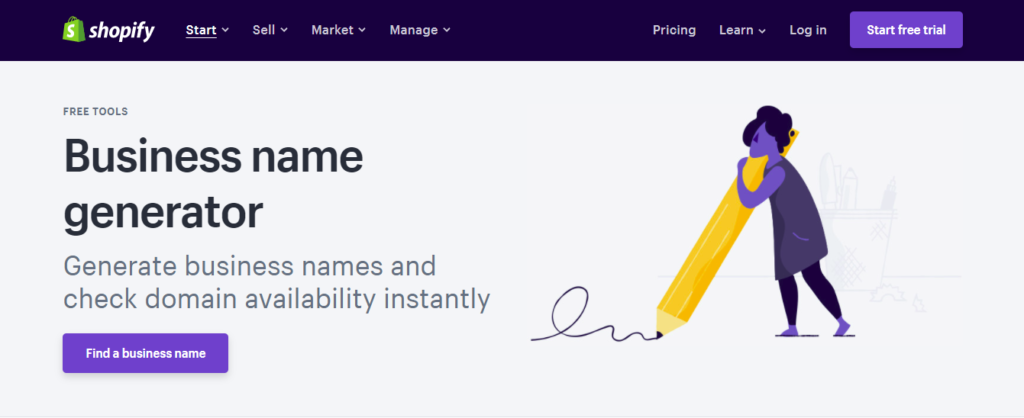 Use Shopify's business name generator to search for business names and their availability. With Shopify business name generator, you can get the business name that will 100% fit your business and personality.

Keep in mind that this tool only generates names and not domain names. However, you can get the idea with this tool, by using the results you can proceed to host providers and use the name.

To start, type in the textbox your query word. After clicking generate, Shopify business name generator will generate hundreds of option for you to choose from.

Amazingly, they are all available!
How Domain Name Affects SEO
The domain name is one of the most important things you should focus on especially if you really want to improve your SEO. Search engines will depend on your domain name to determine what your website is about. So if you are planning on creating a website, let's say it's about health, then obviously your domain name should be related to health, fitness, vitamins, and such.

If your domain name barely represents your brand then expect your ranking to be very low unless you promote your brand and make it to the top somehow.
Can Domain Name & Website Name Be Different?
Absolutely! In fact, it will help your SEO. Especially when you use different keywords in both of your domain name and website name. However, keep in mind that domain name is un-editable once you have bought the name already. Whereas website name is editable through title tags.
Conclusion
Finding the best domain name is hard but with the help of the tools mentioned above, it won't be as hard as rock anymore. To be successful, your domain name should follow the following criteria:
The domain name should be brandable
Short and Easy to Remember
Should be Unique
No special characters
SEO Friendly