We are quite sure that you have heard about the Coronavirus and how in danger we are at this point.

Unfortunately for everyone, the reality is that it is spreading very quickly and will keep on spreading until a vaccine is created.

If you are not aware, we are getting more than 11,000 cases per day and it's growing fast.

Due to all of this, stock markets went down globally and it is affecting almost every business.

This is a very sad truth including for us as we are under the eCommerce business.

But…

What does this really mean for you and for your business?

Before we get into that, let's make this one thing very clear.
Do NOT exploit the pandemic
It's very sad to say that we are seeing quite a lot of businesses that are exploiting this pandemic as well as the fear of mankind.
What we mean by this is that supplies around the globe are running low including face masks, hand sanitizer, isopropyl alcohol, toilet paper, and other necessities.

We are seeing a lot of dropshippers buying them and then reselling them on their Shopify stores.

What's worse is that they are marketing it with Facebook ads and price them not only twice, but 50x higher.

This is not what dropshippers should be doing… and so does you.

If you are planning on making a store for the same reason, well, it's sad to say but this is not only wrong but also very short-term. Yes sure, you can make a quick buck out of this situation but it won't last forever.

You are better off spending your time on something else that can actually last for a very long time like other niches.

So what does the Coronavirus really mean for Shopify dropshippers?

Well, obviously…
Businesses are going down for a while
If you try, or if you are able to walk around your city, you probably would see that most businesses are closed except pharmacies and groceries. Of course, these businesses are important to be always open especially for this kind of situation.

With all that being said, other businesses are going to lose profit for a little while until the situation gets better.

What about for website owners?

Well…
Website traffic may go down for the most industry
You are probably thinking why is this the case when people are in their home self-quarantining themselves. There should be a spike in traffic since they will have more time to browse the internet.

The truth is, only the following industry will get the benefit of this pandemic.
…and the rest is surely going to go down.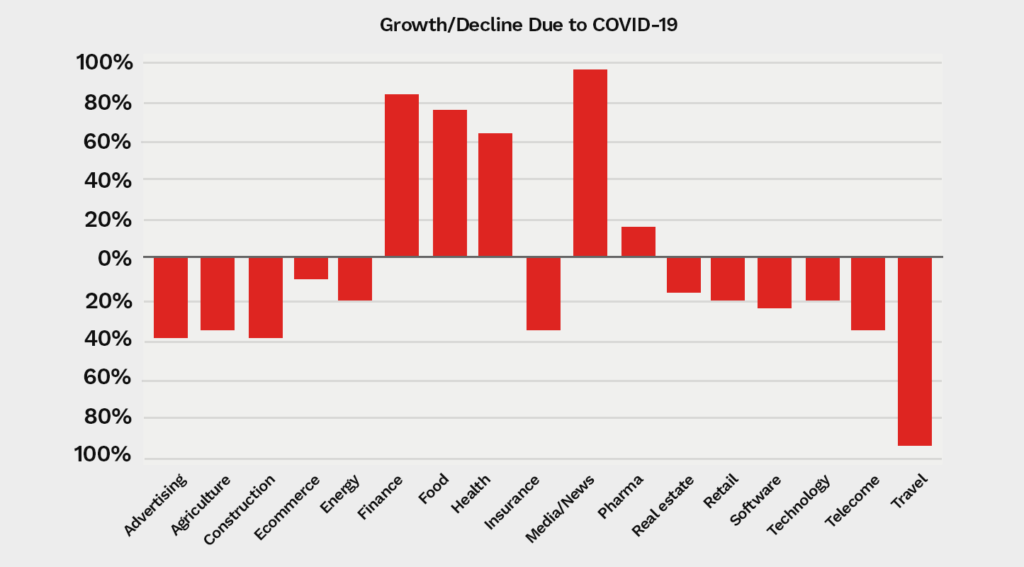 As you can see in the graph above, most industries went down especially the travel niche.

This is gonna be the case for most industry and the only thing we can do at this point is to keep our businesses online.
What can you do at this point?
If you are a Shopify dropshipper and you sell products that don't really have relativity to the situation then it's safe to say that you can still continue your business.

Sure, the stats may go down but surely there are still customers roaming around the internet.

We suggest checking your marketing analytics and see if your ads (if any) are still working or not.

If not, then it's best to keep your expenses low for a while until the situation gets better.
Taking advantage of the economic downturn
During this pandemic, most businesses will go down and you will find that they will either get bankrupt, bought out, or bailed out by the government. Some businesses may be able to cut costs to pay their bills, but for most businesses, it will be hard to say.

If you are lucky enough, you may be able to purchase a business as this is the best time to buy out other companies. If you are planning on doing so, we suggest looking out for media companies or health companies.
Conclusion
With all of this happening around the world, we are hoping that the Coronavirus or COVID-19 passes away soon.

For the moment, please try to not socialize with others or to go into any crowded places.

And of course, keep your hands clean and avoid touching not only your face but also the things that could possibly have bacteria.

And for the businessmen and women, try to double down and avoid being afraid of what's happening to your business.

Everything will be back to normal soon.

PS: We have written a complete guideline on how to set up a profitable Shopify store that can give you new ideas and who knows? maybe you'd profit out of it while the crisis is happening.