If you're a blogger or writer, you may have this kind of habit where you always check your analytics to see if your blog is growing or not and whenever you see your website is not doing so well, you tend to have this anxiety that feels like no one likes what you're writing.

With all of that happening, you wanted to understand… why? or how is it happening?

In this article, we'll be sharing 11 signs to look at to understand why your website is failing. If you don't see any of these signs happening to your website then there's nothing to worry about. However, if you do see some of these happening then we'll provide you the best solution to help you fix your failing website.
1.) Your website is not responsive
This is one of the most common signs of a failing website. If you see in your analytics that your traffic is going down then your website is probably not looking good to other devices such as mobile and tablet.

According to the latest study from Broadbandsearch.net, only 47% of the internet users go for a desktop, whereas 53% of the users go for mobile over desktop and PCs.

In other words, if your website is not responsive to mobile, then that means you're not earning more than half of the internet population.
Solution
The Internet is changing most of the time and if your website is not updated since 2012, then that's the problem. As a blogger, it is your responsibility to cover the majority of the internet population by understanding who your users are and how they use the internet.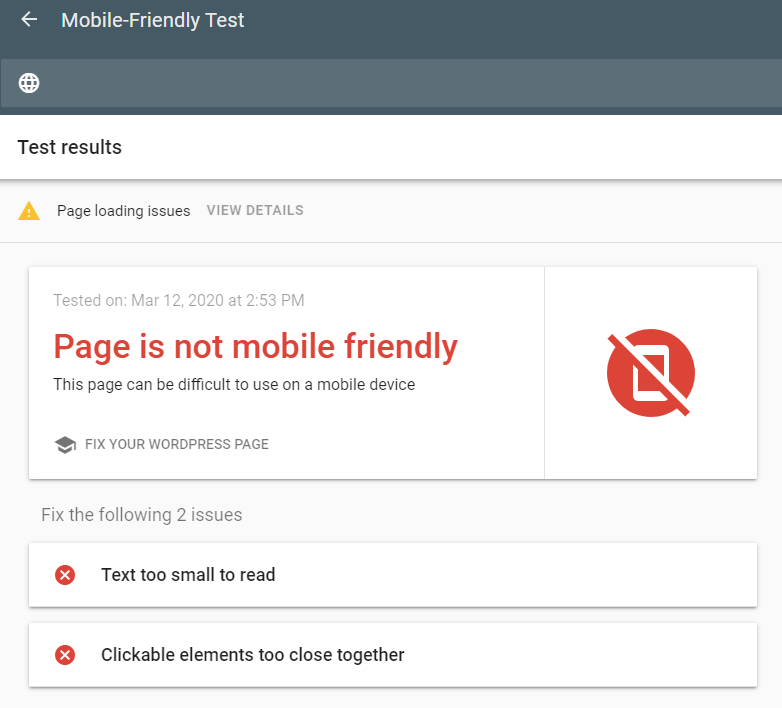 To fix this issue, we recommend using Mobile-Friendly Test from Google Search Console to understand if your website is mobile-friendly or not.

If in case your page is not mobile-friendly, then we suggest getting an updated or a new theme to your blog. If you're using WordPress then we recommend using the default TwentyTwenty theme as it is fast and optimized for blogging use only.

However, if you're looking for a brand-new design, then we would love to help you create a new theme from scratch that will guarantee you to get a fast and optimized design.
2.) You're getting less traffic and more bounce rate
If in your analytics says that you're getting less traffic and more bounce rate, then it's time to make some changes not just on your website design but also on your way on how to deliver web content.

However, the decrease in traffic and the rise in the bounce rate is determined by many factors.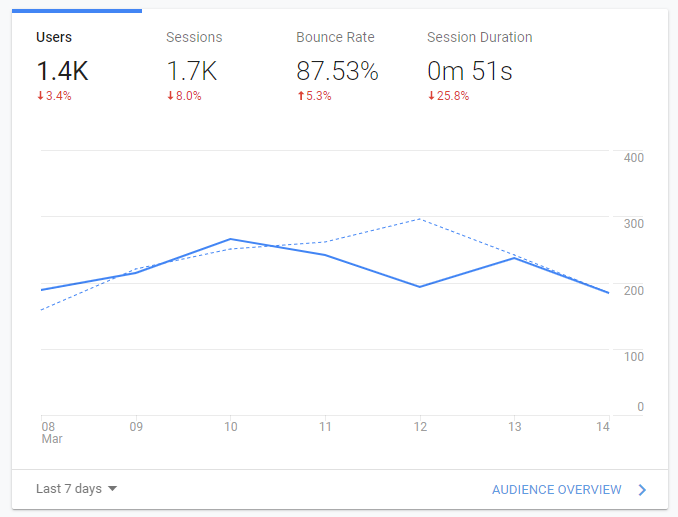 One of the factors to look at is your content pages. Does the content page have plenty of annoying pop-ups or ads? if so, then it's time to remove them or put them less.

Put yourself in the shoes of the reader, let's say you're browsing this article and suddenly 10 pop-ups showed in your browser. How would you feel? Exactly, annoyed… So what are you gonna do? Close all the pop-ups? No, close the blog or browser. That's how you get more bounce rate.

Another thing to look at is the design of your website. Like what we mentioned before, non-responsive websites will give you less traffic. Even if you get some, they're likely to stay due to how bad your website is looking.
Solution
There could be many reasons why you're getting less traffic at this point. The most common reason of all time is how weak your SEO is. Like most of us, Google is one of the best sources of free traffic.

To be at the top 10 of the search results, you have to follow several rules like publishing helpful content, setting up XML sitemaps, installing SEO plugins, optimizing website speed, and more.

If you're targetting Google as your main source of traffic, then you should always put yourself in the shoe of your readers. Make your readers feel that you're a friend who likes to help. Don't overwhelm your readers with plenty of ads or pop-ups.
3.) Your site is TOO old
This could be one of the least reasons why your site is getting less traffic.

As an example, here is our design back in the days where we still write articles about mostly anything. (which is not good! we'll explain later)


A lot of bloggers say that when your site is too old, you have a higher chance of getting more traffic. We are aware that this is true to some degree but this really depends on how your website is built.

Let's say you have a 6-year old website and this website barely gets page views even if this has plenty of content. One of the reasons might be that this website has a history of getting penalized by Google or the content is not "fresh".
Solution
One of the most obvious solutions to this problem is to make sure that your website is as fresh as lemon. Once you make your blog, try your best to update all of your content to make Google think that you're keeping up with the latest information and you're trying your best to help users.

Again, don't let your content get dusted.
4.) You have LESS backlinks
If you are not aware of this, backlinks play a key role in your search rankings.

Most of the websites that rank in Google search results usually have high-quality backlinks directing to them. So if you think you haven't done any link building to your website, then chances are you don't have many backlinks to strengthen your website.
Solution
We all know that one of the hardest things to accomplish in blogging is link building.

I'm sure you are aware of how hard it is to ask other websites to link to your website. Some of them will even ask you to pay for the backlinks.

The best solution to this problem is to just keep writing helpful content. Write content that will make readers talk about it and there only you will get backlinks.
5.) Your content is NOT helpful
We all know that content is the primary reason why people find your blog.

If you're only publishing bad and unreadable blog posts then no one will ever want to read them. Even if you try to market them, no one will stay in your content for more than 30 seconds.

Getting web traffic is very easy but making them stay is a responsibility. Yes, you can use SEO, keywords, marketing strategy and all that. But all of that is useless if your content is as bad as sweet carbonara.
Solution
Obviously, if your content is bad then you have to rewrite them. Improve them.

We know that it's easier to say than to do it but if you really want your readers to stay in your content for more than one minute then you have to make sure that you impress them as soon as they land to your page.

How to do it? Well, you can always follow the following guidelines for a perfect blog.
Writing content takes time and it's okay. So whenever you write content, take your time and do your best to provide the best information more than anyone else and you'll be surprised that your blog is getting ranked on Google.
6.) Your headlines DOESN'T make sense
Did you know that writing a headline is the same as writing a content?

If your headlines are not making any sense then the chance of your blog getting traffic is slim. Even if you think your content is perfect, if your headlines are not readable then no one will read it.

Do you notice the pattern now?

Making your website responsive.

Writing a perfect content.

And now, writing a good headline.

Blogging is all about providing the BEST information out there. If you're a blogger like us then you are on the battlefield too and your weapon is your words. Use them well and you will be profited.
Solution
If you are not aware, there is a formula for writing a good headline.

One of the easiest formulae that we use is the following.
[figure] + [adjective] + [main keyword] + [outcome]
The above formula is great especially if you're writing a list post. An example of this is this article that you're currently reading.

However, here are some of the other examples we found:
Of course, there are more formulae for other types of posts.

If you are a blogger and you mostly post tutorials, then you probably know already your formula.
[How To] + [adjective] + [main keyword] + [outcome]
If you want more information in regards to this, we highly recommend reading Neil Patel's Step-by-Step Guide to Writing Powerful Headlines and we also have an amazing resource to Effective Marketing Strategy for Bloggers with No Budget.
Social media is believed to be the second source of website traffic and if you don't believe this then you're obviously missing out a LOT.

Having a huge presence in social media will help your website get more traffic so it's best to always link your website to any of the popular social sites like Facebook, Instagram, and Twitter.
The reason why you should work on your social media presence is that it will strengthen the legitimacy of your business. If your website doesn't have a social media presence, users may not take you seriously.
Solution
Getting a social media presence is very easy. All you need to do is to create an account from Facebook, Instagram, and Twitter and then, post all of your valuable content. If possible, promote your content using advertising. This will let people know that your business exists.

If you want to strengthen more your social media presence, you can create a YouTube channel where you convert your content into video content. This will spread the name of your website throughout social media thus you will get more page views.
8.) Your website is full of Low-Quality Content
Helpful and informative content is one of the most important factors for increasing your SEO score. If you provide low-quality content then expect your website to fail.

One of the reasons why bloggers fail is due to the fact that they tend to prioritize the quantity of the content over quality.

If you provide helpful content, your chance of getting referenced to other readers is higher. Heck, readers will even come back to your page because your content is informative.
Solution
Before you hit the publish button, take a deep breath and ask yourself if your content is worthy of your reader's time.

Take your time before you even publish your content.

Do some research and make sure your information is above everything else. Make sure that your content helps people.

Stop rushing your content just to get more pages.
9.) Your website is full of non-sense
Most visitors, they often have a goal in their mind. Whether it is to buy a product or to read your article, they always have a goal.

If your website is full of non-sense stuff like widgets or other embedded codes that don't really offer anything, visitors will obviously not take you seriously, and it will affect the future of your website.
Solution
Make your website dedicated to your visitors. If your website is meant for readers, then offer them navigations, to guide them where your articles are placed.

If your website is meant for selling a certain product then offer your visitors a landing page where it highlights the product that you want to sell. This will make your visitors feel that your website is a legit website that offers exactly what people want.
10.) Your website doesn't have a niche
This is an addition to the previous list and it has a good relation to it. If your website doesn't have a niche, visitors will most likely not understand what your website is meant for.

Before you even built your website, we're sure that you had something in your mind. For example, you planned to build your website to provide pieces of information about planes.

That is a niche. Talking about planes is a niche.

If your niche is about airplanes, then you made a content about iPhones, then you made a content again about traveling… That would make your website unorganized and readers will most likely find it hard to get to your web pages.
Solution
Make your website focus only on a certain topic. Don't go overboard as it will make it hard for readers to understand your business.

Sad to say but if your website started as a hobby site then it's likely not to be successful.

There are a lot of factors to consider for creating a successful niche.
11.) Your website is super slow
This is probably one of the reasons why your website is not getting that much traffic.

Imagine, you're searching on Google about how to Instagram and you click on one of the results and that website took SO long to load. What are you gonna do? Of course, you're going to leave the page and look for the answer somewhere else.

That itself will affect your website.

If your website is very slow then no one will be able to reach your content.
Solution
If you're using WordPress as your CMS, then make sure you use the fastest and optimized WordPress themes.

To check how much time your website takes to load, you may use Google Page Speed Test or GTMetrix.