Every blogger knows how important it is to understand what's happening behind their website. It's like if you don't know anything about it. It will feel like you're working for nothing.
That's why we have Google Analytics to help us analyze our website visitors.
What is Google Analytics?
Google Analytics is a free web analytics service offered by Google that can help you understand the following:
How do you acquire users
How are your active users trending over time
How well do you retain users
When do your users visit
Where are your users located
What are the top devices your users are using
What pages do your users visit
and so on…
That's why if you don't know anything about what your visitors are doing, then they practically don't mean anything.
In this article, we'll guide you on how to use Google Analytics to help you understand not just your visitors but also your website's statistics. That's right! Google Analytics also provides detailed insights into how your website is performing like how many visitors you have, how much percentage your bounce rate is, what page is the slowest to load, and the list goes on.
How to use Google Analytics?
To use Google Analytics, you will need to sign up for a Google Analytics account. To register, go to Google Analytics' official website and click on Sign in or Create an Account located on the upper left corner of the page. However, if you're already signed in, click on Access Google Analytics and fill in the required information such as your name, name of your website, URL, etc.
After that, click on Get Tracking ID and agree to all of the terms and conditions to finish your sign up. After signing up, you will be getting your Tracking code that you can copy and paste into your website's HTML files between the head tags.
Google Analytics for HTML
To paste it to your HTML file, you're required to have access to your files by using either an FTP client like FileZilla or by going to your control panel and proceeding to File Manager. Then open your HTML file using a text editor like Notepad and paste it inside the <head></head> tags.
Google Analytics for Shopify Stores
To use Google Analytics for your Shopify stores, go to your Shopify store's admin page and click Online store located at the left navigation panel. Then proceed to preferences and paste the code in the Google analytics' text box.
Google Analytics for WordPress
Another way to use Google Analytics is by installing their plugin through WordPress. To do this, go to your WordPress admin page, proceed to plugin page and search Google Analytics.
After installing the plugin, proceed to Google Analytics tab located at the left navigation panel of your WordPress admin page. Then authorize the plugin by providing the access code.
Personally, I think It's better to just use Google Analytics on their web page instead of installing it to your WordPress blog because number one, it doesn't provide that much data unlike in Google Analytics' web page where you can see what's happening to your website in real-time. Number two, it could slow down your website since it's another plugin installed on your website.
Getting Started with Google Analytics
Once you're done setting up your Google Analytics account, you can start learning about your website traffic. In your dashboard, you will see different sections about your website's data like active users, traffic channel, sessions, users by time of day, top pages by pageviews, sessions by device and many more.
If you have more than one websites, you can access them by clicking on "all accounts" beside the Google Analytics logo and select which website you wanted to see.
Audience Overview
Audience Overview is where you can find almost all the details you needed to understand your visitors. There you will find how much website visitors you have per month, as well as sessions, page views, bounce rate percentage, average session duration, language of the visitors, and so on.
If you want to adjust the date range of the data, you may change it by clicking the date located at the top right corner of the page below your profile picture. You can also make a comparison between two data by applying two date range. For example, you wanted to compare your website traffic from last month to current month.
Real-time Report
What I love about Google Analytics is that it allows you to view who's reading your articles in real-time. To do this, click on real-time overview located at the left navigation panel and click overview.
This will bring you to this page:
Above, you see that there were 16 hundreds of people – who were viewing a website in real-time. That's crazy! Not just that, you'll be able to locate where the visitors are located and what page they're currently looking at. You can see as well where they came from through the Top referrals tab. There you can also see which keywords they were using to reach your website.
More about Google Analytics
Some of you might have not known the purpose of other data like bounce rate, session, time, and etc. What do they really mean? What are they for? Why did Google put it there in the first place?
How Bounce Rate is Computed?
They were lots of speculation that if you have a higher bounce rate, that means your website is not doing well. Which is true but it depends on your website. However, let's understand what this actually means.
Bounce rate happens when a user visits your website and then proceed to another website or web page. Like literally, bouncing onto something. Now how is that computed? When a user visits your website the percentage of bounce rate is 100%. However, if the user looks at your next page. It will be divided into two, which is now 50%.

However, according to Google Analytics, bounce rate is calculated in the following way: single-page sessions divided by all sessions or the percentage of all sessions on your site in which users viewed only a single page and triggered only a single request to the Analytics server.
How Page Value is Calculated?
Page value is the average value for a page that a user visited before landing on the intended page. This value is intended to give you an idea of which page in your site contributed more to your website's revenue.
Below is the equation you can follow to calculate Page Value. Please note that the unique pageview statistic represents the number of individual users who have loaded a given page per session. Each user is counted only once per session, no matter how many pages are opened by the same user.
E-commerce Revenue

 + 

Total Goal Value


Number of Unique Pageviews for Given Page 
How Google Analytics can help your SEO
If you have fully understood how Google Analytics work then you probably know already that you can use it to improve your SEO. But how?

If you are quite new to my blog, I mostly talk about marketing strategies and techniques on how to improve your SEO or how to get organic traffic through SEO.

SEO also known as Search Engine Optimization is a technique that helps to improve the growth of the amount of organic search traffic to a website via search engines like Google.

Organic Traffic can only be earned through search engines. To do this, you have to improve your SEO. Now how can you improve your SEO? using keywords. Now, where can you get keywords? You can get short and long-tail keywords using keyword research tools like Google Keyword Planner tool or any other tools online.
But do you know that you can also use Google Analytics to improve your SEO? Just go to Acquisition and try to look first at the overview page.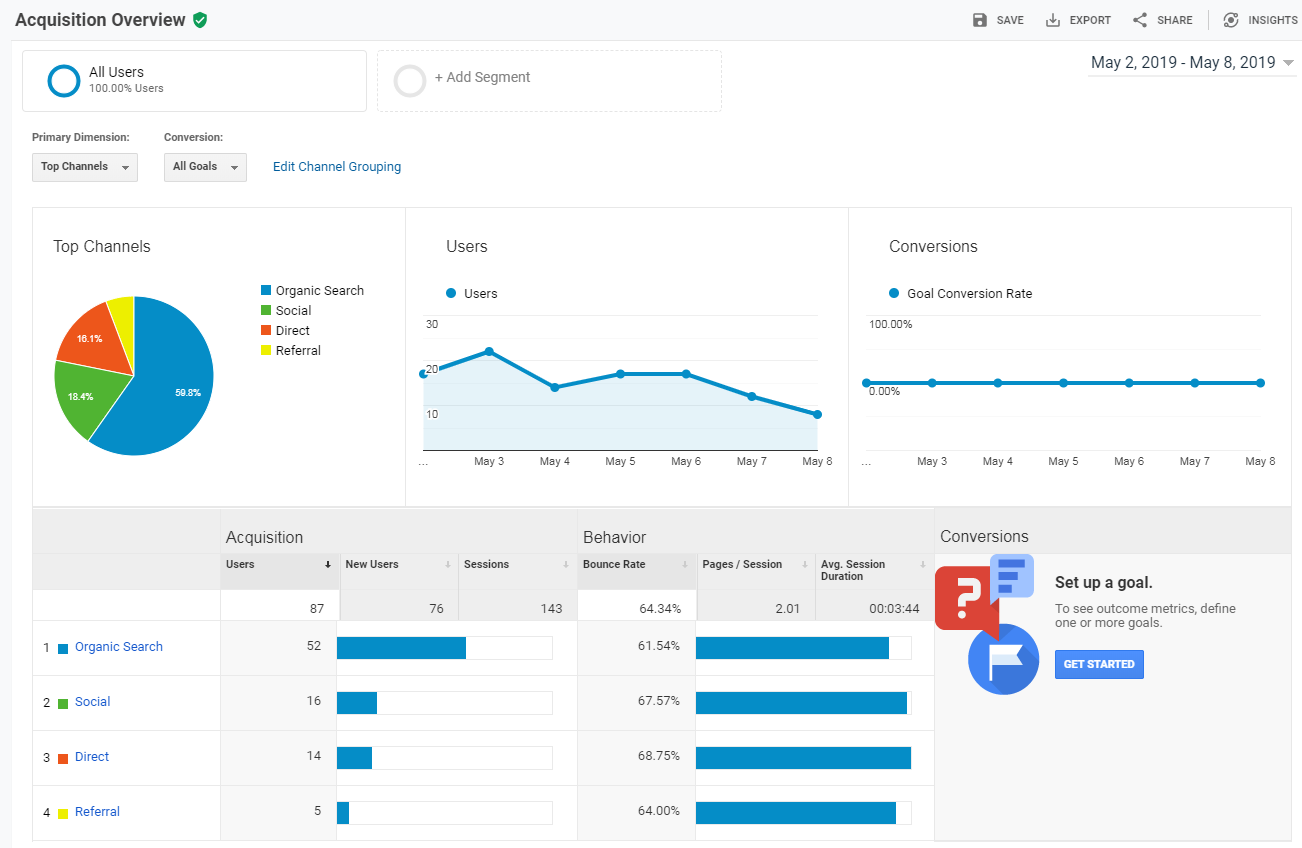 There you can see all the information you needed to understand where your visitors are coming from. Are they coming from Google search results? Are they from social media? Did they directly looked at your website by typing the URL of your website? Or were they referred by other websites? This information can be used to improve your SEO.

Now go back to the navigation panel and click search console and click queries (Acquisition > Search Console > Queries).

Now, if you haven't linked your Google Analytics with your Google Search Console. You may do so, by following the steps below:
Once you clicked the Queries tab:
Click Setup Search Console Data Sharing
Click "All Products" located at the left new navigation panel under the Product Linking panel.
Scroll down until you see Search Console
Click Link Search Console
It will open a new tab redirecting you to Google Search Console
Now click on the radio button with your website labeled on it
Click save
Once you're done, go back to Google Analytics and proceed once again to your Acquisition > Search Console > Queries. There you will something like this: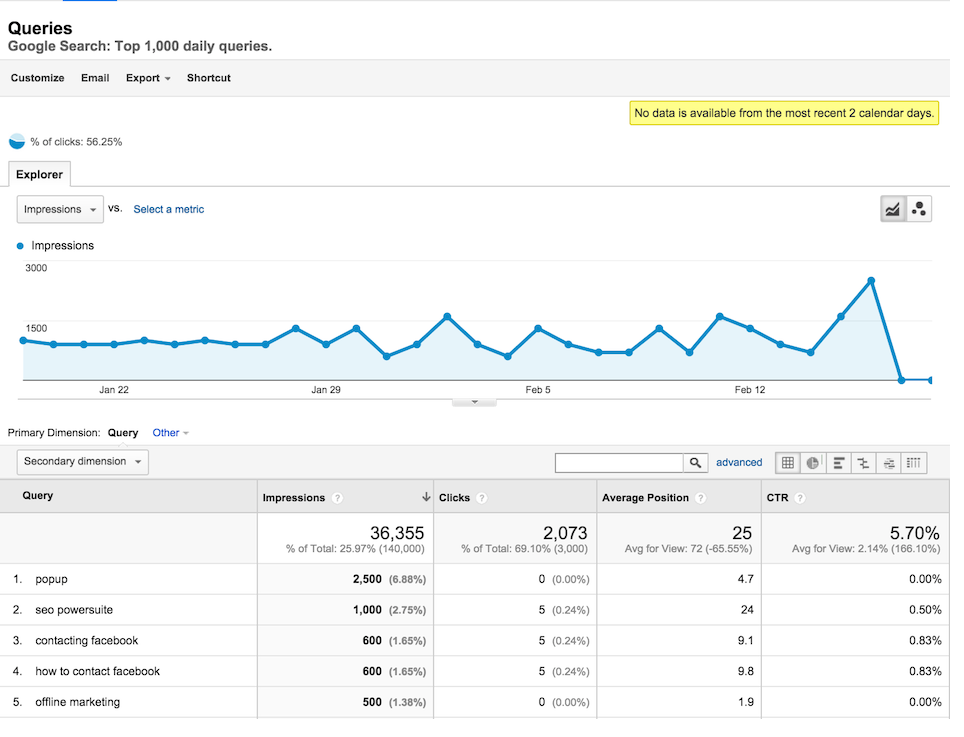 With Queries, you'll be able to directly see on Google Analytics what keywords your visitors are using to get to your web pages.

You can use these keywords to improve your SEO and get rank up all the time in Google Search results. If you wanted to learn more about getting organic traffic and ranking up on Google search results, please read this article:
Create Your Own Google Analytics Dashboard
If you don't know already, Google Analytics allows you to modify or even create your own dashboard to suit your style. You know, if you love seeing bar graphs or pie graphs you can do so by clicking on Customization > Dashboards > Create. There you can choose to start either with a blank canvas or starter dashboard canvas.
Conclusion
Google Analytics is one of the best tools that you can freely use to not just understand your website but also improve your businesses. There are many tools out there that claim to be better at providing website analytics but personally, Google Analytics will never be beaten as they have mostly everything that you need to measure your website.