So you're probably under a hundred Instagram followers and you're wanting to grow it to a thousand loyal Instagram followers, or maybe more
If you want to quickly build a loyal following, we've provided effective tactics to help you achieve your first 1,000 Instagram followers in just one month.
There are hundreds of tips on the Internet on how to grow an Instagram account. However, most of them only work with bigger accounts and won't work well with a few hundreds of followers.
In this article, we'll be providing you effective ways to gain your first 1,000 active followers on Instagram. We'll also provide you tips on what NOT to do with your accounts.
Pick a Category
Which kind of Instagram account are you trying to grow? Is it a personal blog? Food blog? Pets or cute animals?

Whatever your category is, you have to set it and maintain it for your followers. If your Instagram account consists of different photos, your followers might get confused about what to expect in your next post.

A good example of this is a fashion Instagram account. Where they only post items of clothing. They maintain it that way because that's what their followers are expecting.

You can still grow your Instagram account with different categories, the way to do this is by using a theme which we'll talk about later on.
Complete your Bio
If you don't know, your bio isn't searchable. Which means whatever you put in your bio will never be fetched by search results. However, completing your bio is important as putting captions to your photos.

Put an introduction in your bio, let your followers know who you are and what you do. You may also include links to your updated websites or such. Although personally, I don't recommend doing this because you don't want your followers to leave your account.
Connect with your Friends
Your friends are most likely your first followers. So follow them and they will get a notification that you followed them and they might follow you back.
Find your Audience
You can do this by following active accounts that serve your audience in the same category. DO NOT FOLLOW your competitors. Following accounts with the same category is different from following your competitors.

If you are a fashion blogger, follow accounts that make clothing. Do not follow accounts that do the same thing as you. Your followers know who you follow and what photos you like.

Now once you followed them, interact with their audience. Comment in their photos.
Theme up your Profile
Do you know that the cleaner your profile is, the more engaging your profile will be?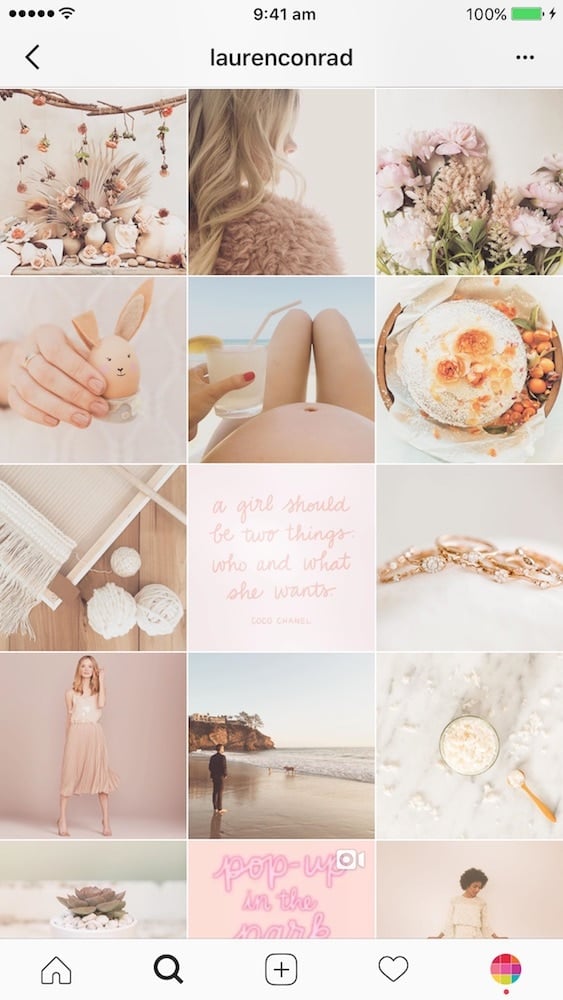 Now, what do we mean by theme? The answer is there. Use themes. Be creative with this though.

You can use the same filter to make it look clean. Use borders to give it a frame styled photos. And if you are into one color, you can posts photos that highlight a certain color like this one:
When we say use hashtags, we mean use lots of hashtags. Do you know you can use up to 30 hashtags? You can use them to market your photos.

Using hashtags is the most effective way to gain followers as well as likes. However, you have to properly use them and make sure that each hashtag is related to your photo.

It is also important to use hashtags with posts ranging from 100,000 to a million photos. DO NOT use hashtags that have millions of photos. Your post will never be featured in that hashtag.
Use Videos and Story
Interact with your followers by using Instagram story. Update your followers about what's coming. You can also use stickers to make it more engaging.

You can also use Instagram story to sell or feature products or to link your web links.
Tips
Conclusion
Growing your Instagram account will take some time, but with the right knowledge. You will be able to achieve your first 1,000 active followers in less than a month or so.