So you've seen a playlist of videos on YouTube and you wish to download them. Not one by one, but all at once. The problem is, most of the tools that you know are either not capable of downloading a video playlist or they are capable but the quality of the downloaded videos is so bad and unwatchable.

In this post, you will learn how to download playlists of videos from YouTube using 4K Video Downloader.
About 4K Video Downloader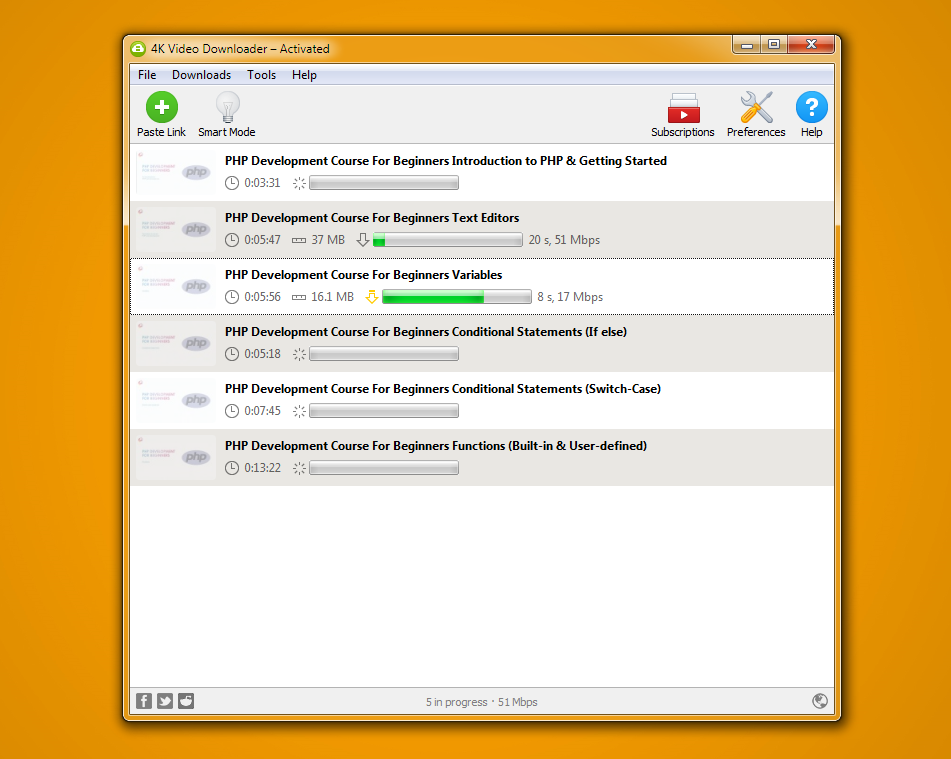 As its name suggests, 4K Video Downloader is a tool that supports 4K videos for downloading. But, do not underestimate this software. It can also download 8K videos very easily. 4K Video Downloader is known to be one of the best and reliable freemium YouTube downloaders and its features are outstanding.
Features
Every feature listed above is the features that are liked by their users. But for us, the feature that we liked the most is the user interface. It's very simple, easy to understand, and not too cluttered with things that are not important.
How to download YouTube Playlists with 4K Video Downloader
Downloading YouTube playlists with 4K Video Downloader is very simple and easy. Just follow the below steps and you'll be able to download a YouTube playlist:
Download & Install 4K Video Downloader
Copy the URL of the YouTube playlist from the address bar of your browser.
Run 4K Video Downloader and click the Paste Link button. (This will start parsing the videos).
Select the format and the quality for your video downloads
Click the Download button.
That's it! Now you're downloading a YouTube playlist.
The good and the bad about 4K Video Downloader
There are features that we liked about 4K Video Downloader but there is also a thing that we don't liked about this tools.
Pros
Con
Upgrading 4K Video Downloader to Pro
There are three plans that you can choose to use 4K Video Downloader, the first is the Starter plan, the second is the Personal plan, and the third is the Pro plan. Check out the table below to learn more about their difference.
| | | | |
| --- | --- | --- | --- |
| Plan | Starter (Free) | Personal ($15) | Pro ($45) |
| Video downloads | 30 videos per day | Unlimited | Unlimited |
| Videos per playlist | 10 | Unlimited | Unlimited |
| Videos per channel | 5 | Unlimited | Unlimited |
| Subtitles download | Single videos | Unlimited | Unlimited |
| Simultaneous downloads | 1 | 3 | Up to 7 videos |
| In-app YouTube subscription | | Yes | Yes |
| YouTube premium HQ Audio | | | Yes |
| Commercial use | | | Yes |
| Ad-free? | | Yes | Yes |
| URLs import and export | | | Yes |
As you can see in the table above, by upgrading to the Pro version of 4K Video Downloader, you can not only download unlimited videos and playlists, but you can also use the tool to download YouTube premium audios which is great for people who download music and videos regularly.
Conclusion
4K Video Downloader is a great tool for downloading high-quality videos and audios from all of the popular video streaming websites like YouTube, Dailymotion, TikTok, Vimeo, and many more. If you're just downloading a video or two, then you can use the free version. However, with so many great features from 4K Video Downloader, I suggest taking either the personal or the pro version. That way you will be able to download unlimited videos, and you also don't have to deal with advertisements that can slow down your downloads.

If you wish to learn more about 4K Video Downloader, you may check out their support page.